Arthur's Day: Guinness deny criticism led to event's cancellation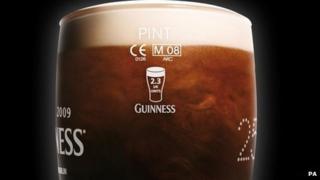 Guinness has cancelled its Arthur's Day promotion but said the move was not down to criticism that the event promoted drunkenness.
Arthur's Day has been held annually since 2009. It promoted Guinness through gigs and promotions in bars across the island of Ireland.
Last year, critics accused the event of being irresponsible.
A spokesperson said the company was proud of Arthur's Day but it was time for a change.
Hazel Chu, from Guinness, added that Arthur's Day had been very successful.
'Alcoholiday'
Guinness announced that a new music promotion programme, called Guinness Amplify, would replace Arthur's Day.
There had been criticism that Arthur's Day encouraged excessive drinking and led to pressure on the emergency services.
Last year, Irish songwriter Christy Moore wrote a scathing song about the event, in which he describes it as an "alcoholiday".
The Royal College of Physicians of Ireland also said the event promoted drinking, in a country where alcoholic liver disease and related deaths have almost doubled since 1995 because of alcohol abuse.
The event was conceived in 2009 to mark 250 years since the first pint of Guinness was brewed in Dublin.
Last year's event featured 1,000 paid musicians and singers performing in pubs across Northern Ireland and the Republic.
There were also events in 55 countries and it was advertised as a cultural initiative, headlined by international performers such as Tom Jones and the Manic Street Preachers.