Spain's Princess Cristina files appeal against charges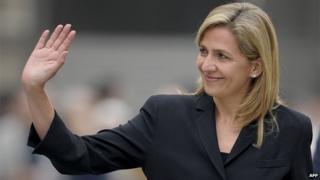 The sister of Spain's King Felipe, Princess Cristina, is appealing against charges in a tax fraud and money laundering case, court officials say.
Lawyers for the princess say they are seeking to overturn the charges, which were formalised by a judge last week.
They relate to the business dealings of her husband, Inaki Urdangarin.
If the goes to trial, Princess Cristina will be the first direct relative of the king - who only came to the throne on 19 June - to end up in the dock.
Felipe VI succeeded his father, King Juan Carlos, who abdicated last month.
Many Spaniards have recently lost confidence in the monarchy following a series of scandals, including Princess Cristina's tax fraud case.
'Absolute conviction'
Palma de Mallorca's investigating judge, Jose Castro, formalised the charges against the princess on 25 June, saying that she should be tried alongside her husband and other suspects.
The judge had been investigating allegations that the princess's husband embezzled millions in public funds with a former business partner and that she had knowingly benefited from the dealings.
"Princess Cristina's defence has lodged an appeal with the Court of Palma," the court told journalists via text message on Wednesday.
Her lawyer, Miquel Roca, told journalists he was convinced of the princess's innocence: "It is not a problem of optimism or pessimism, it is a question of absolute conviction of the innocence of our client."
Mr Urdangarin, who is the Duke of Palma, and Diego Torres were alleged to have received 5.6m euros (£4.6m; $7.5m) by overcharging regional governments for organising sporting events as part of a not-for-profit organisation called Noos.
Money from Noos was allegedly channelled into a company called Aizoon that the duke had set up with his wife. It was then allegedly used to pay for work on the couple's Barcelona mansion, luxury trips and dance lessons.
As co-owner of Aizoon, she is suspected of co-operating in tax fraud and money-laundering, although she told the judge in February she had no knowledge of the company's activities and simply trusted her husband.
A final decision on any trial will be taken by the provincial court in Palma de Mallorca. If convicted, Princess Cristina could face up to 11 years in jail.