Roma children's families get Irish government apology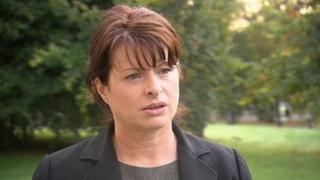 The families of two Roma children who were mistakenly taken into care have received a personal apology from the Irish minister for justice.
A seven-year-old blonde girl spent two days in care following her removal from her home in Tallaght, Dublin.
A two-year-old boy was also taken from his parents in Athlone, County Westmeath.
Irish Ombudsman for Children Emily Logan found there was a readiness by police to believe they were abducted.
The children were taken from their families last October amid fears that they did not belong to them. However, the authorities' concerns in both cases proved unfounded.
Police acted against the background of international interest in the case of a blonde-haired child being taken from a Roma family in Greece.
Physical dissimilarities
In the case of the two-year-old boy, Ms Logan said their actions exceeded the available evidence and was "tied inextricably" to the fact that his family was from the Roma community, and their actions amounted to ethnic profiling.
The inquiry found that any doubts police had "should have been decisively put to rest when they were informed by the father that the child had albinism".
In both cases, the inquiry found "physical dissimilarities between parents and their children do not constitute a reasonable basis for suspecting that such children have been abducted".
Ms Logan said the case of the seven-year-old girl was more complicated, and at the time she was taken into care it was reasonable for police to have concerns about her welfare.
However, these concerns should have been alleviated once a Dublin hospital had confirmed information about her birth.
Serious impact
The girl was kept in care for two nights, before DNA tests proved she was her parents' biological daughter.
The inquiry found DNA was "not a proportionate measure to employ in circumstances where there is a significant amount of alternative information that could attest to the relationship between a child and his or her parents".
The ombudsman said the events of last October had a serious impact on both the children and their families.
"I was very concerned to hear the seven-year-old girl say she has changed her hair colour to prevent her from being taken from her family again," she said.
"The family of the two-year-old boy was already living in poverty and had come to the attention of charities such as the St Vincent de Paul and Barnardos because they were not eligible to access certain social welfare supports.''
The report found that the police's actions were not the result of consciously-held prejudicial beliefs about the Roma community.
Ms Logan said families were owed an official apology for the upset caused to them by removing their children from their care.
She also recommended that a Roma cultural mediator should immediately be appointed to liaise between State agencies and families living in the Tallaght area, where there is a significant Roma community.
She said these events had led to increased fear amongst the Roma community that State authorities may remove children from their families.
The boy's family is suing the state for breach of constitutional rights, false imprisonment, defamation and damages for mental distress.
At the time, police defended their actions, saying that the protection of vulnerable children was of paramount importance and all reports received from members of the public concerning child welfare issues were taken very seriously.
Minister for Justice Frances Fitzgerald said it should not have happened, and apologised to them on behalf of the government.
"It happened out of a determination to protect children, but that determination got skewed," she said.
She said that while police have to make hard decisions every day, they do not "always have a full and perfect set of facts to work on".
"Occasionally, they make the wrong call - and what the report has found is a succession of errors in how they dealt with these issues: acting in what they thought were the best interest of the children concerned, they made a series of mistakes. With unintended consequences for two families," she said.