Father Ted song My Lovely Horse turned down by committee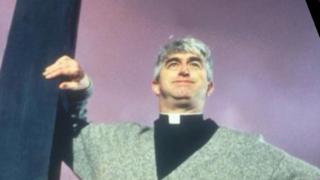 An Irish parliamentary committee has ruled against a public petition to enter a song from the Father Ted comedy show into Eurovision 2015.
The committee chairman said members "didn't have the musical expertise" needed to consider the issue.
The song, My Lovely Horse, rose to fame in the A Song for Europe episode of the television series.
In the episode, despite being comically bad, the song was selected so Ireland would not win the competition again.
Lyrics include: "I want to shower you with sugar lumps and ride you over fences, polish your hooves every single day and bring you to the horse dentist."
National defeat
With seven victories, Ireland remains the most successful country in the history of the Eurovision Song Contest.
The Father Ted episode was originally aired in 1996, when Ireland had won the competition four times in the space of just five years.
The comedy programme suggested that the Irish state could not afford to host the Eurovision again, so the judges selected My Lovely Horse in order to ensure national defeat in the finals.
But the song struck a chord with Father Ted fans, resulting in a plea to Irish lawmakers to enter the tune for real in next year's competition.
The petition entitled 'Legislate to make My Lovely Horse Ireland's entry for Eurovision 2015' was submitted to the Irish Parliament in May, via its Joint sub-Committee on Public Petitions.
The suggestion was sent in by an "unincorporated association of persons" calling themselves "The People of Ireland (and interested Britons too)".
'Frivolous'
The person who submitted the petition gave their name as 'Mr Finn McCool'.
Finn McCool is a mythological giant.
The cross-party committee that refused to consider the plea consists of members of Dáil Éireann (the Irish House of Representatives) and Seanad Éireann (the Irish Senate).
It is chaired by Pádraig Mac Lochlainn from Sinn Féin.
The petitions system was set up to encourage wider participation in the Irish democratic process.
It allows members of the public "to take their policy concerns directly to their national parliament and, in doing so, influence the parliamentary agenda".
However, not all types of petition are admissible.
Anyone wishing to submit a petition is warned that it will only be considered if it "is not frivolous, vexatious or otherwise does not constitute an abuse of the petitions system".