Juncker faces 'job on the side' jibe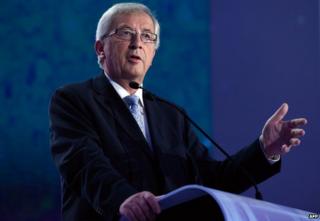 The top candidate for the EU's top job, Jean-Claude Juncker, has been criticised for speaking engagements that earned him thousands of euros.
He has come under fire from German newspapers for not being open about taking a "job on the side" which involved speeches to industry groups.
There is no suggestion of impropriety.
EU leaders widely back the ex-Luxembourg leader's nomination as Commission president but the UK's David Cameron is firmly opposed.
Mr Cameron has threatened to demand a vote at this week's European Council summit if the question of Mr Juncker's candidacy is raised. The UK prime minister believes Mr Juncker is too much in favour of closer political union and might block reform of the EU.
German Chancellor Angela Merkel told the Bundestag on Wednesday that he should become Commission president even if there was not unanimity among EU leaders. There would be "no drama" if he were chosen by qualified majority voting, she said, although until now the post has usually been decided by unified agreement.
Mr Juncker himself has said he expects to be in post by the end of next week "if common sense prevails".
---
Analysis by BBC Berlin correspondent Stephen Evans
There is no suggestion that Mr Juncker has done anything illegal but the argument made by those who want more openness about the finances and interests of politicians is that by agreeing to speak to businesses for money, it might offer the perception that doors have been opened for them in future.
Laws have been tightened with regard to the Members of the European Parliament - but not for candidates for the top posts in the bureaucracy. Transparency International would like much tougher "integrity checks" for candidates.
When contacted by the BBC, Mr Juncker's office said: "We're not commenting on this." His defenders say that he has made a declaration of interests to the Luxembourg Parliament of which he is a member, and that he currently doesn't have a job with the European Union.
Jean-Claude Juncker and the 'moonlighting' claims
---
One of the two German newspapers that questioned Mr Juncker's decision to address a German armaments lobby and the defence industry is Bild Zeitung, which at the end of May clearly backed him as European Commission head.
The paper's strong support was seen as a factor that influenced Chancellor Angela Merkel's decision to throw her weight behind him after initially suggesting that other candidates should be considered.
The newspaper has now criticised Mr Juncker's lack of transparency over his "well-remunerated speeches".
He is listed as a speaker by at least two international agencies which provide speakers for private events. Although the fees have not been disclosed, an estimate of 15,000 euros (£12,000) per speech has not been denied.
Mr Juncker's office has refused to comment on the criticism although people close to him insist he has made a declaration of interests to the parliament in Luxembourg and is not currently employed by the European Union.
Anti-corruption group Transparency International told the BBC that Commission presidency candidates should declare outside sources of income.
"We need to be very clear about outside interests," said spokesman Carl Dolan.