Fighting for Schumacher's life and privacy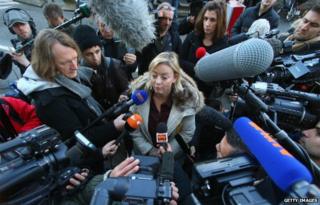 Since the day last December when he suffered serious head injuries in a skiing accident, the slightest mention of Michael Schumacher has attracted worldwide attention.
The former Formula 1 star, the most successful racing driver in the world, has been in hospital ever since his crash into rocks just off the marked ski slopes, but information about his actual condition has been sparse.
When news of his accident first emerged, hundreds of journalists and television crews from all over the world set up outside the hospital in Grenoble, crowding his family as they tried to visit him.
Some members of the media managed to get rooms in the same hotel as the Schumacher family; one tabloid journalist even disguised himself as a priest in an attempt to gain access to the ward in which Michael Schumacher was being treated.
Throughout, the family has pleaded for respect and privacy, while from time to time offering small nuggets of information.
At the beginning, the medical team in Grenoble gave terse press conferences, announcing that Michael's condition was life threatening, then that it had stabilised.
He was in an induced coma, and would, it was explained, gradually be woken from it at some point.
Never, though, did his doctors offer a prognosis of what kind of recovery Michael Schumacher was likely to make, neither did his family comment.
For his millions of fans around the world, the lack of information has been disappointing. They all hope that such a vigorous and relatively young man will recover, but they would also like to know more about how he really is.
Journalists, of course, wish him well too, but they are also frustrated: every mention of Schumacher trends on Twitter, every paper with him on the front page will increase its circulation, every news website featuring anything at all about him can guarantee thousands of hits.
The pressure to find something to say about him is huge.
And then, although no one likes to talk about it, there are Michael Schumacher's many sponsors, from Mercedes to mineral water, who simply do not know whether their star ambassador will ever be able to represent them again.
Filling the information hole
Nature abhors a vacuum, and, in the absence of any real information, speculation and rumour have been rife. Many newspapers have turned to brain injury specialists, some very reputable, some rather less so, to interpret, from a distance, Michael Schumacher's situation.
None of them has treated him, nevertheless many suggest they know how he is, but their diagnoses differ widely. Some forecast a good recovery, some a partial one, some no recovery at all.
The official news in April, after months of silence, that Michael Schumacher was showing some small signs of consciousness, simply fuelled the frenzy of speculation, which renewed pleas from his family and his agent could not stop.
It is not surprising then, that the decision to move him from Grenoble to the University of Lausanne hospital in Switzerland was shrouded in secrecy, and planned, it seems, with all the careful precision of a battle.
His family clearly want him closer to home: the Schumachers live on the shores of lake Geneva, just a few kilometres from Lausanne hospital. They will be able to visit him more easily, and the hospital has a renowned neurological unit, where, it was announced, Michael would continue "his long phase of rehabilitation".
The short statement telling the world that Michael Schumacher had changed hospitals also included the words "he is not in a coma anymore", adding that no further updates on his condition or his progress could be expected.
The Schumacher family clearly hoped to draw a line under the media interest, and finally get the privacy they have been requesting for six months.
A vain hope; within hours of the transfer being announced the television trucks were set up outside Lausanne hospital, scores of journalists stood outside, speculating endlessly.
Money for information
Behind the scenes, more unscrupulous methods of getting information seem to be operating. Just two days after his transfer, a Swiss newspaper published a suspiciously detailed account of how Michael Schumacher had made the journey from France to Switzerland.
Not by helicopter, as one might have expected, but by an ambulance from the remote alpine community of Visp. Its crew were apparently asked to surrender their mobile phones before taking him on board, in order to prevent any pictures being taken.
But despite the precautions, "information" has seeped out: Michael's eyes were open for most of the journey, he seemed to respond to his wife.
No one knows who the source of these "facts" is, nevertheless they have been pounced on in yet more attempts to provide a spurious clarity about his condition.
And then, this week, perhaps the lowest blow of all: medical records from Grenoble hospital in France have been stolen. It is believed they are Michael Schumacher's, and that they consist of the first few pages of a much longer file, written by the doctors in Grenoble, and intended for the new medical team caring for him in Lausanne.
They are being offered for sale to media across Europe: for 50,000 euros (£40,000, $68,000) the details can be bought. And despite threats of legal action from the Schumacher family, despite a police investigation in Grenoble, even if no established media ever publish it, it is probably only a matter of time before the information emerges.
Medical records are supposed to be confidential, shared only between patient and doctor.
But not, it seems, if you are famous, not if your name is Michael Schumacher, and not in the 21st century digital age, where the perceived "right to information" seems to defeat every other consideration.
---
Michael Schumacher
Born: 3 January 1969
First GP win: Belgium 1992
Last GP win: China 2006
Races started: 303
Wins: 91 (155 podium finishes)
Championships: 7 (1994, 1995, 2000, 2001, 2002, 2003, 2004
---