Paul Rudd's run-in with Seamus Coleman's father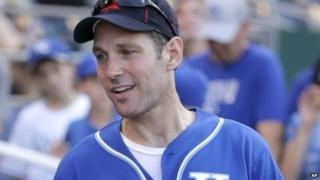 US actor Paul Rudd has described how he had a run-in with the father of a Premiership footballer while on holiday in County Donegal.
Rudd told chatshow host David Letterman he was in the fishing town of Killybegs, the hometown of Everton and Republic of Ireland star Seamus Coleman, as part of a bachelor party for two friends ahead of their weddings.
He said a football shirt he was given by the Irish Film Board while promoting Anchorman 2 led him to fall victim to a prank organised by their tour guide.
"I had an Irish football jersey with my name on the back and the number 2, but I thought 'I'm not going to wear this, I'm self-conscious and I don't know anything about the players if people ask me about it'," he said.
"About five pints of Guinness in, I said I'm going to grab that jersey and put it on and show these people that I'm one of them."
The Knocked Up star said that when he went back in to the pub, he was teased about his lack of football knowledge.
"I went to this restaurant next door when after a few minutes I get pushed on the shoulder by a really angry looking gentleman," he said.
"He says to me, 'there's only one person in this town who wears number 2 in this town, and it's my son'.
"His son is Seamus Coleman, who's from Killybegs and is the greatest footballer to come from there.
"I said I was sorry for being disrespectful, but then he just started laughing."
It turned out that the policeman who had been showing Rudd and his friends around was to blame.
"He'd called this guy's dad to come down and scare me to death," he said.
Despite the practical joke, it seems there are no hard feelings.
He also told Letterman: "Ireland is the best place on earth."