Alan Shatter appeals against finding he broke data protection laws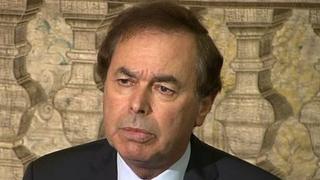 Ireland's former justice minister is to appeal against a finding that he broke data protections laws by disclosing personal information about independent TD Mick Wallace.
Alan Shatter revealed to RTÉ in May 2013 that Mr Wallace had been cautioned by police for using his mobile phone while driving.
The incident occurred in Dublin in May 2012.
Mr Shatter was found in May to have breached data protection acts.
In response, Mr Shatter told the Irish parliament he was given the information by then police commissioner Martin Callinan.
The Data Protection Commissioner Billy Hawkes ruled that Mr Callinan was not in breach of the data protection acts when he passed the information to the minister for justice.
He said it was the commissioner's duty to keep the minister fully informed, but Mr Hawkes found Mr Shatter had breached data protection acts.
However, the commissioner ruled he had not committed an offence and was not subject to any penalty under the acts.
Mr Hawkes said it was a matter for any individual who felt they had suffered damage to seek legal advice.
Mr Shatter apologised to Mr Wallace after the incident.
Legal challenge
The issue became known as Shattergate.
On Thursday, it was revealed in Dublin's Circuit Criminal Court that Mr Shatter had begun legal proceedings to overturn the commissioner's finding.
He claims the commissioner erred in fact and in law in reaching his conclusions.
The case is expected to be heard in October.
Judge Alan Mahon directed that Mr Wallace be joined as a notice party to the case, which means he can be legally represented during the hearing.
His lawyers had said the outcome of the case could directly affect his rights and interests.
Responsibility
Mr Shatter resigned as justice minister on 7 May following receipt of a report into allegations made by police whistleblower Sergeant Maurice McCabe.
It was critical of a number of agencies, including the Department of Justice. As a result, Mr Shatter said he had taken responsibility for this and was stepping down.
In his resignation letter, Mr Shatter said he disputed some aspects of the report.
He became a government minister three years ago, and during his tenure he has never been far from controversy.
Two bugging scandals, a very bitter row over drivers' penalty points and his failure to complete a breathalyser test at a police checkpoint kept him in the headlines.
Mr Shatter, a lawyer, was put in charge of two government departments - justice and defence.
As the Republic of Ireland introduced painful austerity measures, Mr Shatter set out on a wide-ranging reform agenda, which included plans to close more than 100 police stations.