Eoin O'Connor and Anthony Keegan: One of men arrested over murders is freed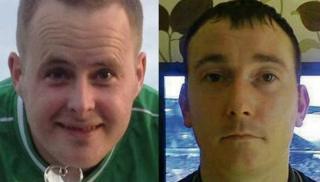 One of two men arrested in connection with the murders of Eoin O'Connor and Anthony Keegan has been released without charge.
Irish police said a file was being prepared for the Director of Public Prosecutions.
Mr O'Connor, 32, and Mr Keegan, 33, from Coolock, Dublin, were found dead on 26 May on an island on Lough Sheelin, County Meath.
The pair were last seen in County Cavan on 22 April.
They had told their families they were going to a meeting.
Two men, one in his 20s and the other in his 30s, were arrested in Cavan on Wednesday and taken to a police station in Kells, County Meath.
At the time of the men's disappearance, the police suspected they had gone to Cavan to settle a drugs debt to a criminal gang.
A car belonging to one of the men was discovered near a lake in County Westmeath, three days after they were last seen.
They were discovered on the island following searches by police. Their bodies appeared to have been tied up and placed under a tarpaulin that was covered with vegetation.