D-Day landings: Remembering the Battle of Berjou
By Jackie Storer
BBC News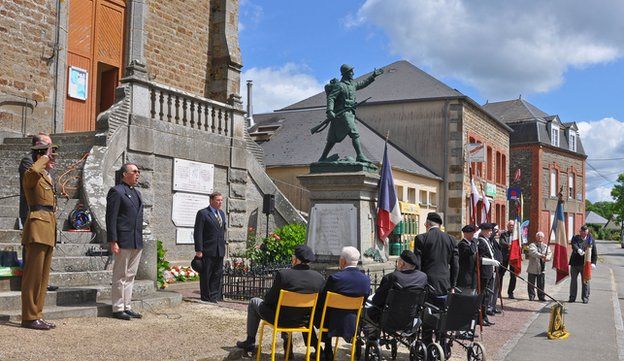 Barely 500 people live in the French village of Berjou, but as international leaders marked the 70th anniversary of the D-Day landings amid great pomp and ceremony, a smaller, more intimate reunion has been taking place to remember a significant battle to restore liberty to a sleepy but strategic corner of Normandy, 80km (50 miles) away.
Outside Berjou's 19th Century Catholic church, an elderly bowler-hatted Englishman holds court.
"The last time I came into Berjou was in a tank," he told the gathering of about 100 villagers, local children, World War Two veterans and their families. "But we didn't come as conquerors; we came as your friends."
Unsteady on his feet, yet with his back ramrod straight, 89-year-old Captain David Render was there to commemorate 26 comrades from the Sherwood Rangers Yeomanry killed or wounded almost 70 years earlier helping to liberate Berjou, and to unveil a plaque in their memory.
The Rangers were part of the 8th Armoured Brigade and among thousands of soldiers who landed on Gold Beach on D-Day.
They were the first British unit to enter Bayeux - the first French town to be liberated from Nazi occupation on 7 June.
More than two months later, on 15 August 1944, they were involved in a Herculean attempt to navigate their Sherman tanks across the Noireau river and through steep, wooded hills to capture the Berjou Ridge.
It was part of the closing episode of the Battle of Falaise Pocket, when Allied troops encircled German occupiers, before driving them out of Normandy, paving the way for the liberation of Paris.
Capt Render, then a 19-year-old commander of three Sherman tanks, said just getting the vehicles off the landing craft on 7 June, 24 hours after D-Day, had been challenging enough.
"The first one went into a hole in the sand and turned upside down with the men in it and disappeared," he said. "At the same time we were being attacked by heavy machine gun fire and Messerschmitt 109s flying above."
Looking around the sunny Norman village, with its boulangerie, brick and stone built Church of St Michael and World War One memorial to Le Poilu, the archetypal French infantryman, Capt Render recalled: "When I came through here all the houses were damaged.
"It's hard to believe the lanes are so peaceful now; in those days we were moving from one tree to the next, constantly under fear of attack."
Sherwood Rangers regiment timeline:
24 October 1942 - Heads the armoured attacks in the battle of El Alamein.
6 June 1944 - Lands in France on D-Day equipped with swimming Duplex Drive D Sherman tanks fitted with canvas flotation screens and propellers driven by the tank's engine
7 June 1944 - Takes part in the liberation of Bayeux - the first French town to be liberated from Nazi occupation
15-17 August 1944 - Takes part in the Battle of Berjou
Forms part of the advance across Northern France, Belgium and Holland. Its reconnaissance troop was the first British unit to enter Germany in 1944
Watching the service from his wheelchair, Gunner Stan Cox, 89, described being in the first tank into Bayeux on 7 June. "We more or less walked in - there was no opposition at all. The people were running about the town with German underclothes after they had raided one of their stores.
"We then headed off for Tilly-sur-Seulles, but a shell hit our tank, which started a fire going. The other four got away, but as I jumped off, I was hit by shrapnel and landed behind the tank, which I thought would roll on top of me.
"I was pulled out of the way and five minutes later the tank blew up. A few moments longer and I would've been roasted alive."
His friend, Graham Stevenson, 89, from Walsall, missed the D-Day landings after he was put in the guard house for seven days for rudeness to a superior officer.
When he finally rejoined his unit a couple of weeks later, his Sherman tank was shelled and he was hit by machine gun fire, almost costing him his arm and forcing his exit from the war.
Private Stevenson was only 16 when he served at El Alamein and the push through North Africa, having lied about his age. "This had been quite an emotional trip. I'm here for all the men who can't be, but I hope to return again one day."
Annette Conway, from Banbury in Oxfordshire, attended the Berjou ceremony on behalf of her late father, Leslie Skinner, the regimental padre, who insisted on recovering the dead and writing to the families of each one killed.
"To be trapped in a tank was a horrible way to die, so he used to clear all bodies from the tanks himself," she said. "He wouldn't let anybody else into them.
"He accounted for every single casualty - nobody in that regiment was posted missing apart from when he was injured himself. He was shot in the head by a sniper, but the bullet was deflected by his cap badge and his Bible absorbed the blast."
Mrs Conway added: "I think the men took a lot of comfort from the way he dealt with the dead, and some of them still say to me: 'We all loved your father.'"
While peace has returned to the quiet village of Berjou, the scars of that fierce battle remain.
Just a two-minute walk from the Sherwood Rangers' newly-laid plaque, villager Robert Guillain, 89, shows the bullet holes left in his kitchen door by British troops who "cleared" the house with a Bren light machine gun, killing two Germans hiding on the other side.
Like many others in the village, Mr Guillain's home is full of reminders of the conflict. Only a week ago, he dusted off a British rifle he had kept on top of a bedroom cupboard since 1944 to be put on display in Berjou's recently opened museum dedicated to the battle.
But as the Sherwood Rangers' veterans left the service of commemoration in Berjou, local MP Philippe Senaux summed up a sentiment shared by the whole village: "We're just pleased we've had the opportunity to thank them so much for what they have done."