Irish ombudsman bugging: Cabinet to discuss judge's report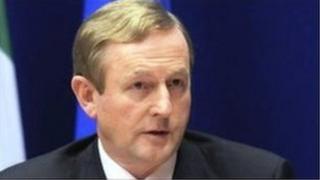 The Republic of Ireland's cabinet is expected to discuss a report into the alleged bugging of the office of the police watchdog, on Tuesday
Irish Prime Minister (Taoiseach) Enda Kenny received the report last week, while he was on a trade mission to San Francisco.
It is understood that Mr Kenny and senior officials spent the weekend examining Judge John Cooke's findings.
The judge launched the inquiry in February.
He was asked to investigate allegations that the offices of the three-person Garda Síochána Ombudsman Commission (GSOC) had been subject to "unlawful surveillance", following a report in the Sunday Times newspaper.
GSOC said in February this year that there were "three electronic anomalies" that could not be explained.
Resignations
Relations between the police service, an Garda Síochána, and its watchdog had not been good.
The Garda Commissioner at the time, Martin Callinan, denied there was any police surveillance, authorised or otherwise, of the GSOC Dublin offices.
Since February, both he and the Minister for Justice, Alan Shatter, have resigned.
It is understood Mr Kenny will discuss the Cooke findings with the new Justice Minister, Frances Fitzgerald, and Deputy Prime Minister (Tanaiste) Eamon Gilmore, before the cabinet meeting.
Depending on the cabinet discussions, the Cooke Report is expected to be published.