President Hollande's double dinner date dilemma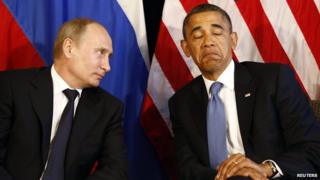 Wasn't there a 1960s American comedy whose two-timing hero (Jack Lemmon? Tony Curtis?) has to eat simultaneously in two separate restaurants, dashing from one to the other in order not to disappoint his two mutually hostile female guests?
The scene is brought to mind by Francois Hollande's crafty solution to his D-Day diplomatic poser.
Desperate not to offend either of his mutually loathing invitees, the French president has taken the unusual step of agreeing to eat two meals in one evening.
First he dines on Thursday night at the Chiberta restaurant - just by the Arc de Triomphe - with President Obama.
Then - after presumably toying with his Michelin-starred plat and definitely not ordering the cheese - he returns to the Elysee for what they are calling "supper" with Vladimir Putin.
Of course it won't be quite as bad as in the film, where the protagonist cannot admit to either of his companions that he is eating another meal elsewhere - so is forced to tuck in with gusto, twice over. By the end he is close to collapse.
But still it is an unusual situation for a head of state - a reminder perhaps of the lengths Mr Hollande is prepared to go to make these two days a success.
When you are as unpopular at home as the president is, a big international shindig can come as a lifesaver. And shindigs rarely come as big as this one.
Some 18 - or is it 19? - heads of state and government are passing through Paris and Normandy today and Friday, marking the 70th anniversary of the Normandy landings and using the moment for a spot of diplomatic face-time.
Or not, in the case of Mr Obama and Mr Putin.
Highest honours of course are for Queen Elizabeth, whom the president accompanied down the Champs-Elysees today at the start of a two-day state visit.
The Elysee palace is telling journalists that all the stops are being pulled out for this one. The Queen's stay is to be the last word in presidential protocol.
Officially it is to pay respect to Her Majesty's long reign - she is after all the only attending head of state who actually remembers D-Day.
But the pomp also suits the president. The Queen is immensely popular in France, and the occasion is a chance for Mr Hollande to elevate himself above his grim political routine.
The highpoint of the Queen's visit will be another dinner - this one, thankfully, on Friday.
French newspapers are full of the regular guff about how many serving staff there will be at the Elysee banquet, how they selected the foie gras, and how the maitre d' measures the regulation 60cm between seated guests.
Among other titbits: the band of the Republican Guard will play a series of light pieces including The Fairy Queen by Purcell and Yellow Submarine by the Beatles.
Guests will include Jane Birkin, whose breathy single Je t'aime with Serge Gainsbourg the Republican Guard will not be playing (though wouldn't it be fun if it did?), Arsenal manager Arsene Wenger and Michael Edwards, the first Englishman admitted to the Academie Francaise.
In addition to foie gras (a favourite of the Queen), the menu includes saddle of lamb, Bourbon vanilla cream and pink champagne sorbet.
Without a consort since the precipitate departure earlier this year of Valerie Trierweiler, Mr Hollande has no obvious person at hand to accompany Prince Philip. The seating-plan will have required some work.
By cheese time, President Hollande will be feeling that he has put in a good two days' work.
Maybe some of his diplomatic scurrying will have born fruit. Maybe a bit of the royal fairy-dust will have rubbed off. Maybe his image will be a little bit less forlorn.
Or maybe not. All we can say for sure: the president will not be hungry.