D-Day diplomacy: A guide to the pitfalls to avoid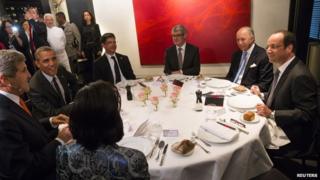 A state visit by the Queen, the 70th anniversary of D-Day, and the added complication of Russia's alienation from the West over the Ukraine crisis - France's diplomats certainly will have had their hands full organising this week's events.
So what are the pitfalls that might have been giving them sleepless nights over the past few months?
Surprise!
"What you want to prevent most of all is any sort of surprise," says Caroline Vicini, chief of protocol at the Swedish foreign ministry.
"That's what can lead to any awkward moments."
Occasionally letting leaders off the leash can lead to positive developments - Russian President Vladimir Putin has not ruled out the possibility of meeting Ukraine's President-elect Petro Poroshenko at Friday's commemoration.
But it was the element of surprise that Prince Charles blamed for his much-criticised impromptu handshake with Robert Mugabe at Pope John Paul II's funeral in 2005.
"There is also the danger of one of the leaders going 'off message' - Berlusconi was particularly known for that, but of course he's not there this time," says Michael Binyon, former diplomatic editor of The Times.
Prince Charles and Mr Putin will probably keep their distance after the prince's reported recent comparison of Russia's actions to those of Nazi Germany - perhaps particularly inauspicious given the nature of the event.
The Duke of Edinburgh is also known for "speaking his mind", says Elizabeth Stewart, editor of Embassy magazine - diplomatically put. His minders will no doubt be on high alert to prevent any eavesdropping.
And if leaders do need to break off to deal with breaking news, "you have to work out when they're going to be on show and then at what point you can isolate them so they can rant on away from public view," says Mr Binyon.
Let them eat... salad?
So many VIP events revolve around food - and Francois Hollande had two helpings to deal with on Thursday.
He had separate meals with presidents Obama and Putin, in an attempt to entertain two world leaders on the same evening.
But the menu itself can be fraught with problems. As well as the obvious religious or dietary requirements to take into account, "many world leaders these days seem to have dieticians looking over their shoulders and watching over what they eat", Ms Vicini says.
With many countries feeling the effects of austerity measures, some leaders are watching their figures in more ways than one.
According to the memoirs of the former chef at the Elysee Palace, President Hollande has apparently banished caviar, lobster and truffles to avoid being seen as extravagant - but brought back the cheese course.
And while a state dinner is a chance for the host nation to show off its cuisine, "you don't want anything too difficult to eat - you can't have them sitting there struggling with the food or have it slip off the plate", Ms Vicini says.
Sometimes the menu can need a little explanation to avoid causing an incident.
"I remember when the Queen came to Morocco, she was served a traditional dish called pastilla," recalls Abdel-ilah Bennis, a former Moroccan diplomat.
"It's called 'pigeon pie' as that's the traditional ingredient, but now it's made with chicken. But until she had this explained to her, this did not amuse Her Majesty."
Boast not thy selfie
It wasn't exactly a diplomatic incident, but the selfie at Nelson Mandela's funeral taken by Barack Obama, David Cameron and Helle Thorning-Schmidt was judged by many not to have been the best way of marking a funeral.
As much as heads of protocol may not like it, mobile phones have been intruding more often into such occasions.
"One does now see more and more heads of state comparing their gadgets during formal meetings," Mr Bennis says.
There are unlikely to be any repeats on Friday, even away from the solemn environs of the D-Day commemorations.
Even though the heads of protocol are not able to tell heads of state to keep their phones in their pockets, "they have probably learnt their lesson", Mr Bennis says.
Just what one always wanted
Gift-giving is a common custom on state visits, although it's not clear if any will be exchanged on this occasion.
After all, just coming up with fresh present ideas can be hard, as South African President Jacob Zuma found out when he gave the Queen an ornate chess set in 2010, only to discover that his predecessor Nelson Mandela had given the Duke of Edinburgh a similar gift years before.