Prince Felipe: Spain's next king speaks of unity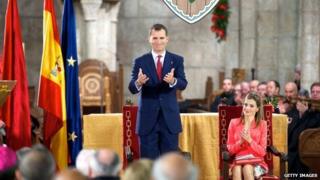 Spain's king-in-waiting, Prince Felipe, has said he wants to promote his country as "united and diverse'' when he takes the throne.
In his first public remarks since his father, King Juan Carlos, decided to abdicate, 46-year-old Prince Felipe said he would dedicate all his strength "to continuing to serve Spaniards".
Parliament still needs to officially approve the crown prince's succession.
But he could become King Felipe VI as early as 18 June.
He will inherit the throne at a time when Spain is struggling with high unemployment and growing demands for Catalonian independence.
'Difficult periods'
Prince Felipe made his speech during a cultural award-giving ceremony in north-east Spain.
"In difficult periods such as these we are going through, past experience in history shows us that only by uniting our desires, putting the common good ahead of individual interests and promoting the initiative, curiosity and creativity of each person, can we manage to advance to better scenarios," he said.
King Juan Carlos announced his abdication on Monday.
The king was seen as popular for much of his 38-year reign, but recently many Spaniards have lost confidence in him.
His popularity has been dented by a long-running corruption investigation into the business dealings of his youngest daughter and her husband.
Support fell further when it was discovered that Juan Carlos had been on a lavish elephant-hunting trip to Botswana in April 2012, in the middle of Spain's financial crisis.
But Prince Felipe and his wife, the former TV journalist Princess Letizia, have been largely untainted by these scandals, and score much higher in opinion polls than other members of the Spanish royal family.