Jewish Museum murders: Nemmouche refuses extradition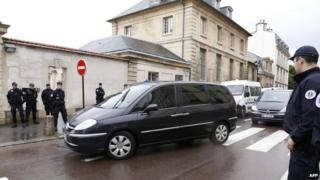 A 29-year-old Frenchman suspected of shooting dead three people at the Brussels Jewish Museum last month is to fight extradition from France.
Mehdi Nemmouche, arrested in Marseille on Friday, appeared in court amid tight security in Versailles near Paris.
When served with a European arrest warrant by Belgium, he refused to be extradited, officials say.
Two Israelis and a French volunteer died in the 24 May attack and a Belgian employee was critically wounded.
Mr Nemmouche was arrested six days later during a routine check on a coach arriving at Marseille bus station from Amsterdam.
Prosecutors say he had with him a Kalashnikov and a pistol and had recently returned from Syria, where he went after spending five years in a French jail.
He is currently being held in France under anti-terror laws. His decision to contest the European arrest warrant is likely to prolong the extradition process for some time, correspondents say.
Mr Nemmouche's lawyer Apolin Pepiezep had initially indicated that it was unlikely his client would oppose extradition.
But after the hearing, Mr Pepiezep told reporters that he and his client had considered the pros and cons of the case and decided against it. "We want him to be judged in France, first of all because he is French and he is in France," he said.
Although Mr Nemmouche has been questioned by anti-terror police, French media say he has refused to answer questions.
The case will return to court on Thursday.
Under the European arrest warrant, brought in to speed up the criminal justice process in 2004, extradition takes an average of 48 days, according to the European Commission.
The guns seized by French police on Friday have been taken to the Belgian town of Courtrai, near the border with France, to determine whether they were used in the Brussels attack, Belgian media say.
French Interior Minister Bernard Cazeneuve was due to visit the scene of the attack in Brussels on Wednesday.