France moves to tackle jihad threat after Brussels attack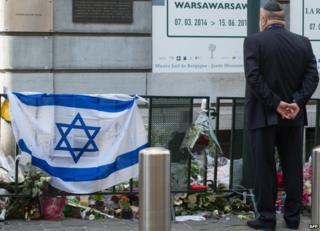 The suspect in the murder of three people at the Brussels Jewish Museum is everything European governments fear.
French prosecutors say Mehdi Nemmouche had returned from Syria, his destination after being radicalised in prison.
He was stopped on Friday because of routine check for drugs as he left a coach in Marseille. Since he left Syria three months before, he had travelled through several countries, which underlines the huge difficulty governments have in tracking the Syrian returnees.
And yet Mehdi Nemmouche's story is familiar. His profile is alarmingly similar to that of another French-born jihadist, Mohamed Merah.
In 2012 Merah killed seven people in Toulouse: three paratroopers as well as three children and a teacher at a Jewish school.
Both men had complicated family backgrounds; both were petty criminals and investigators believe they turned to Salafism in prison.
Merah's radicalisation increased after journeys to Afghanistan and Pakistan. Mehdi Nemmouche had spent over a year in Syria, and prosecutors say he was carrying the banner of the most extremist group, the Islamic State of Iraq and the Levant (ISIS) when he returned.
"There are dozens of men like Merah and Nemmouche," Prime Minister Manuel Valls said on Tuesday. "We've never faced a challenge on this scale".
If estimates are right, between 1,000 and 1,500 Europeans may currently be fighting in Syria. Some 780 of them are French.
The challenge to identify and track them is huge. As an example, last summer, in Toulouse, I interviewed the friends of two half-brothers, Nicolas and Jean-Daniel Bons, who had gone to fight in Syria without the knowledge of their family. They were from middle-class, Catholic backgrounds.
"I don't know who radicalised Nicolas," said one friend. "I wouldn't be able to recognise them. They came from outside. Not from the mosque or our estate. They were from Strasbourg, or perhaps Paris."
The radicalisation was quick. They watched jihadist videos in the privacy of their bedrooms. They were more observant, stricter, in their adherence to the religion than many of their Muslim friends. And soon they tried to convert everyone in the family.
One morning they left their grandmother's house and got into a waiting car. It was the last time they were seen. They travelled by bus to Barcelona, flew on a budget airline to Casablanca, then to Istanbul where they were met and transported to Syria to join ISIS. Both are now dead. Nicolas became a suicide bomber.
Mathieu Guidere, an expert on Islam and an adviser to the French government, says clues to radicalisation must be identified earlier. "Islam appears like, let's say, communism in the 60s and the 70s," he told me. "It's more like an ideology than a religion for the men we are talking about.
"Almost all of them are internet converts. It is the online images that have the greatest impact. They don't even read Arabic. They don't understand what's going on in the videos but they can't ignore it - they feel an overwhelming urge to do something."
'No respite'
European governments appear well-positioned to thwart larger plots involving several people. More difficult are the smaller, simpler attacks such as the 24 May murders at the Brussels Jewish Museum: one person and a gun.
On Monday the French government arrested four suspects, loosely described by Interior Minister Bernard Cazeneuve as jihadist recruiters. "There will be no respite", he said, for "those who incite terrorism".
But a map of arrests and networks linked to jihadists would criss-cross Europe and, it appears, dovetail into Morocco and Turkey, the main destination of Westerners heading to Syria.
On Thursday EU interior ministers will meet in Brussels to discuss the threat.
Withdrawing passports is the most drastic measure to counter the jihadist phenomenon, though some European countries have already done so. The Dutch government has cancelled the passports of 11 people.
Later this month France will pass a number of measures to stop the radicalisation of men like Nicolas and Jean-Daniel Bons:
A plan to stop minors leaving France without parental consent
Increased surveillance of Islamist websites
A system to encourage parents to signal suspicious behaviour in their children
Intensification of online surveillance so that young people in danger can be identified early
Separately, it is also examining prison reform and alternative sentencing.
French prisons are hopelessly overcrowded. One prison governor told me last summer that the Muslim inmates in his jail were sometimes locked up in their cells for 23 hours a day. They leave prison angrier and more hostile than when they were sentenced. Some refuse to meet with government-approved imams.
Any changes will require much tighter surveillance of men like Mehdi Nemmouche, who was released from prison and was soon on his way to Syria.
The French lost track of him.
The Germans did communicate his return to Europe in March this year, two months before the attack. They were suspicious of his travel route, from Istanbul through Malaysia. That notice was logged by the DGSI (French domestic intelligence) but was seemingly ignored or forgotten.
Alain Bauer, a leading French criminologist who advised former President Nicolas Sarkozy, said: "The task is not impossible but we need greater and better co-ordination among all countries.
"Early intelligence, early warning, early detection. It is something we don't do."