Ukraine crisis: Nato to bolster defences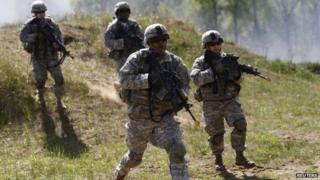 Nato has pledged to bolster its defence capabilities in response to Russian actions in Ukraine, but said it would stick to a key agreement with Moscow.
The announcement came hours after the US president pledged $1bn (£600m) to boost military deployments to Europe.
Russia earlier said it could pull out of the 1997 Nato-Russia Founding Act should there be major Nato deployments in eastern and central Europe.
Nato accuses Russia of backing rebels in Ukraine - a claim denied by Moscow.
In March, the Kremlin annexed Ukraine's southern Crimea peninsula - a move condemned by the West.
On Tuesday, heavy fighting between Ukrainian government troops and pro-Russia separatists was reported in and around the rebel-held city of Sloviansk in the east.
'Wake-up call'
Speaking after a meeting of Nato's defence ministers in Brussels, the alliance's Secretary General Anders Fogh Rasmussen said Russia had increased its military spending by 50% in the last five years, while Nato cut funding by 20% over the same period.
"It's unsustainable," Mr Rasmussen said.
"What we've witnessed in Ukraine is a wake-up call," he added.
He said the bloc was developing a "readiness action plan", which would involve more joint exercises and also beefing up Nato's cyber defence policy.
---
Jonathan Marcus, BBC diplomatic correspondent, Brussels
There is a real sense that something has changed. Nato Secretary General Anders Fogh Rasmussen put it this way, noting that the Alliance faced "a new security situation in Europe.
So if something has changed the implicit question left hanging in the air is what should Nato do about it? The answer is that it is going to do a lot more of what it has already been doing since Russia's seizure of Crimea. There will be more training and exercises; readiness levels will be improved; and Nato will seek some additional resources.
Barack Obama's message - the US is leading from the front.
But this is not about a return to the Cold War. Nobody in Nato, not even the Americans, have either the appetite or the resources for a major European defence build-up. But certain Nato allies are worried, so something has to be done.
Nato weighs up new strategies - and costs
---
Mr Rasmussen also welcomed US President Barack Obama's plans for a $1bn fund to increase US military deployments to Europe.
Mr Obama was speaking during a visit to Poland ahead of a meeting with Nato leaders in Brussels to discuss the Ukraine crisis.
"Our commitment to Poland's security as well as the security of our allies in central and eastern Europe is a cornerstone of our own security and it is sacrosanct," Mr Obama said after inspecting a joint unit of US and Polish F-16 pilots.
The programme will still need approval from congress before it goes ahead.
In April, 150 US soldiers were sent to Poland for military exercises amid growing tensions with Russia. They will be joined by a further 450 troops in the coming days.
'Fundamental decisions'
Mr Rasmussen stressed that Nato remained committed to the Founding Act governing the relations between the two sides.
On Monday, Russia's envoy to Nato, Alexandr Grushko, was quoted as saying that Moscow was considering withdrawing from the co-operation treaty and taking "measures of a military character" should there be major Nato deployments in Europe.
It is the first time the Nato defence ministers have discussed the long-term security implications of Russian actions over Ukraine. The talks will continue on Wednesday.
A senior Nato official quoted by AFP news agency said earlier that the ministers would be making "fundamental decisions" regarding Russia that would go before Nato leaders at a September summit in the UK.
The bloc has already pledged to support the modernisation of Ukraine's armed forces.
---
Nato defence spending targets
Nato's members have a target of spending 2% of their GDP on defence.
Countries that met or exceeded the target in 2013 included:
United States - 4.4%
United Kingdom - 2.4%
Greece - 2.3%
Estonia - 2%
Countries that spent less than the target in 2013 included:
France - 1.9%
Turkey - 1.8%
Poland - 1.8%
Germany - 1.3%
Lithuania - 0.8%
Overall, European members of Nato spent 1.6 %.
Source: Nato
---