Lia Fáil on Hill of Tara in County Meath vandalised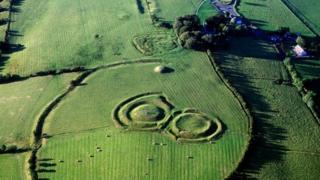 Police in the Republic of Ireland are investigating vandalism to the Lia Fáil - the standing stone at the top of the Hill of Tara in County Meath.
A police spokesman said green and red paint was poured over the stone overnight.
At least half of the 5,000-year-old granite was covered by the paint.
In 2012, the stone was damaged when pieces of it were hacked off with an axe.
Ian Doyle, an archaeologist and head of conservation with the Heritage Council, said the latest incident was "an act of cultural vandalism".
He said people in the area "have a close relationship with the Hill of Tara and this is an assault on their sense of pride and the respect, love and affection they have for it."
Minister for Arts, Heritage and the Gaeltacht Jimmy Deenihan described the vandalism as "truly shameful".