Head of France's UMP opposition to quit as party reels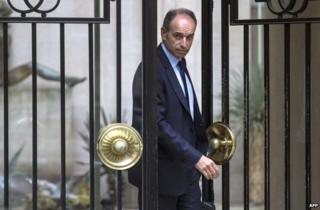 The head of France's main opposition party is to resign after allegations of party funding fraud in 2012 and a poor showing at the European elections.
Jean-Francois Cope, who stood for the leadership of the UMP in 2012 in a bitter fight that divided the party, will step down next month.
The allegations relate to Nicolas Sarkozy's failed campaign for re-election as president.
They could derail his bid for a return in 2017, a BBC correspondent says.
On Sunday, the UMP was beaten into second place, winning 21% to 25% for the far-right National Front (FN).
FN leader Marine Le Pen used her first news conference since the election on Tuesday to call for early parliamentary elections, arguing that President Francois Hollande's Socialist Party had lost its legitimacy after winning 14% of the vote.
Tortured affair
UMP officials say they have now brought forward a party congress to October to choose the new leader. Mr Cope, who has agreed not to stand again, will resign next month and the party will be led temporarily by three former prime ministers: Francois Fillon, Alain Juppe and Jean-Pierre Raffarin.
The battle to succeed Mr Sarkozy two years ago was a tortured affair, with infighting in the UMP between those who supported Mr Cope and those who preferred Mr Fillon, the BBC's Christian Fraser reports from Paris.
Mr Cope won the disputed ballot but since then has failed to unite his party, which has been further divided in recent weeks over "anomalies" in the funding of Mr Sarkozy's 2012 campaign.
It is alleged a company run by the friends of Mr Cope, Bygmalion, pocketed millions of euros for fictitious or overbilled campaign events.
A lawyer has accused the party of ordering fake invoices to cover the spiralling campaign costs, which went well beyond legal limits.
Mr Cope and Mr Sarkozy both deny any knowledge of this.
Ms Le Pen, who also stood for president in 2012, said if the allegations were true, Mr Sarkozy should have been disqualified from the election.
Outlining her plans, she said she wanted an end to some of the EU's most high-profile policies, such as freedom of movement and the euro.
She also called on Mr Hollande to halt the proposed US-EU trade pact; veto Turkey joining the EU; and nationalise the French energy company Alstom.