Pope's 'zero tolerance' vow on abuse will now need action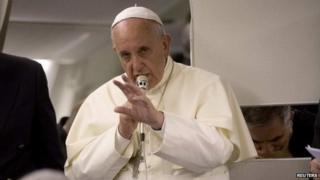 On the plane back to Rome after his Middle East tour, Pope Francis said that the sexual abuse of children by priests was as bad as performing a satanic mass.
Scandals involving priests abusing children sexually and in other ways have caused enormous damage to Catholicism.
Secular people might say that paedophilia is actually much worse than a satanic rite.
But for a pope to compare crimes carried out by Catholic priests to worshipping the devil counts as strong language.
The Pope is saying what many Catholics who have been horrified by repeated child sex abuse scandals want to hear.
But he will have to follow his words with actions if he wants to stop scandals doing any more damage to the Church.
Ambitious papacy
Pope Francis has already apologised for the sex scandals.
But on the plane he said for the first time as Pope that he will meet victims of abuse by clergy.
Nevertheless for his pledge of zero tolerance to mean anything he will, eventually, have to punish the guilty men - and those higher in the Catholic hierarchy who covered up what they did.
Francis has been Pope for not much more than a year but it is already clear that he wants his papacy to be ambitious.
During the flight back to Rome he fielded journalists' questions for around an hour.
Francis looks energetic for a man of 77, and his wide-ranging answers suggested that he believes he can use his moral and spiritual authority as the leader of more than one billion Catholics to change minds around the world.
The Pope hinted at some flexibility. He pointed out that while he valued celibacy for the clergy, it was not a dogma.
That means it is a custom that is not immutable and the Church can talk about it and re-examine it.
He added to his agenda during his visit to Jordan, the Palestinian territories, East Jerusalem and Israel, by arranging a "meeting of prayer" in Rome between the Palestinian President Mahmoud Abbas and his Israeli counterpart Shimon Peres.
It is expected to take place in the next month or so.
On the plane, Pope Francis said he would have liked to arrange the meeting while he was in the Holy Land, but the logistics ruled it out.
He tried to dampen any expectations that he was starting a new peace process, by saying that he was not going to mediate.
It would be crazy, he said, for him to try to make judgments between the different hypotheses about big issues like the future of Jerusalem.
Any solution, he said, would have to come from negotiations between the parties. He said they would pray together in Rome without argument.
But by arranging the meeting in Rome he has added to the pressure on what is already a busy papacy, still in its honeymoon period after little more than a year.
The Pope chose not to give a detailed answer when a journalist, using a metaphor from his native Argentina, asked him if he had too much meat on the barbeque.
But when he was asked whether he would ever emulate his predecessor, Pope Benedict, by retiring rather than dying in office, he said, slightly playfully that a precedent had now been set.
Pope Francis is obviously not ready for that yet. He believes that the papacy has moral and spiritual authority, and he intends to use it.