Lord Trimble calls for inquiry into Lord and Lady Gibson's murders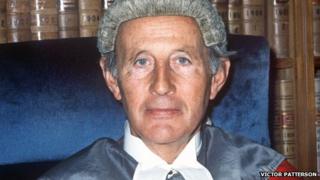 Former first minister Lord Trimble has called for an inquiry into whether there was collusion by Irish police (Garda) in the IRA murder of a senior Northern Ireland judge.
Lord Justice Gibson and his wife Cecily were murdered by the IRA in 1987.
Lord Trimble said the British and Irish governments should "put right" a mistake that he said had wrongly denied the family an inquiry.
He said there was now "an overwhelming case" for a re-investigation.
Lord Trimble told BBC NI Spotlight that it had emerged that errors were made in a review that rejected the case for a full public inquiry in 2003.
Breaking a 27-year silence, the Gibson family is also demanding the case is re-opened.
Lord Justice Gibson, an Appeal Court judge, was the most senior member of the judiciary killed during the Troubles.
Collusion has long been suspected in the case, and it was one of six controversial murders, shrouded in claims of British or Irish state collusion, which were proposed for further inquiry, during peace negotiations in 2001.
Retired Canadian Judge Peter Cory reviewed the killings, which included the deaths of Belfast solicitor Pat Finucane and RUC officers Ch Supt Harry Breen and Det Supt Bob Buchanan.
The Gibson case was the only one he turned down for an inquiry.
Judge Cory assessed Garda intelligence that stated a member of the force had helped the IRA in the Gibsons' murders.
He cast doubt on the reliability of the intelligence - crucially questioning its accuracy because it was more than a decade old.
But this intelligence was investigated once again in the course of the Smithwick Tribunal which found Garda-IRA collusion in the 1989 murder of officers Harry Breen and Bob Buchanan.
Judge Smithwick found that Judge Cory was "mistaken".
The key intelligence actually came just three years after the Gibsons' deaths, increasing its potential accuracy.
Also, Judge Smithwick met the handler of the source of the information and concluded the source was "very reliable".
During the programme, Lord Trimble was asked if the Gibsons should now get the inquiry they were denied.
He said: "Yes. They should have had initially, but especially now when we have got the Smithwick Report there and what is contained within that, there is an overwhelming case.
"It's quite clear in retrospect now that a mistake was made and that mistake should be put right."
Late in the hearings, the tribunal also heard there is now recent and reliable PSNI intelligence claiming a guard was involved in the killing.
The programme investigates other murders and claims that Garda-IRA collusion was more widespread than the killings of officers Breen and Buchanan.
Spotlight is on BBC Northern Ireland at 22:35 BST on Tuesday.