EU elections: Press alarm at far-right win in France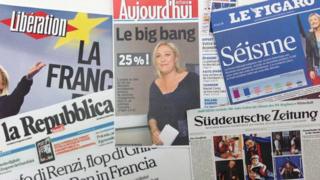 For Le Figaro, it is an "earthquake", Aujourd'hui en France speaks of a "big bang", and the business daily La Tribune says France is "stunned".
French newspaper front pages are dominated by the far-right National Front's win in elections to the European Parliament.
Elsewhere in Europe, there are warnings of an "alarming" rise in the "populist" vote.
'New style'
The print edition of France's centre-right Le Figaro runs an unusually big banner headline, "Earthquake", accompanied by a photo of a smiling National Front leader Marine Le Pen.
The paper says the National Front has achieved a "historic victory", the centre-right opposition UMP "is entering a period of turbulence", while the governing Socialist Party (PS) "suffers another rout".
Editor-in-chief Alexis Brezet describes the result as a "personal victory" for party leader Marine Le Pen. "By embodying a new style, she has managed to overcome the chief obstacle to the party's advance... its vilification," he says.
Francoise Fressoz in centre-left Le Monde believes words are no longer enough to counter the National Front. "We need action, and fast, because the two big parties, the PS and the UMP, now face the threat of a presidential election earthquake," she warns.
Left-leaning Liberation runs the front-page headline: "The National Front's France".
An editorial by Eric Decouty says the party's victory, while expected, "remains a shock which will rattle France and all of Europe". Together with the scores achieved by "Europhobic parties" elsewhere, it "poses a real threat to the European idea".
'Euro-haters advancing'
"Radicals and populists triumph", the German liberal daily Sueddeutsche Zeitung warns in its main front-page headline.
A website article by Christian Wernicke says France's National Front has achieved a "historic" victory aided by "the weakness of the country" and conflicts in the two main parties.
Klaus-Dieter Frankenberger in Germany's centre-right Frankfurter Allgemeine Zeitung agrees that the gains by the National Front and "populists" elsewhere are "alarming".
He predicts they will make politicians show less enthusiasm for Europe at home but believes they will have less of an impact on the European Parliament.
The website of Germany's best-selling paper Bild reports "shock results almost everywhere". "Euro-haters advancing", says its headline, framed by photos of a laughing Marine Le Pen and Alternative for Germany leader Bernd Lucke.
Front pages in Italy are dominated by centre-left Prime Minister Matteo Renzi beating ex-comic Beppe Grillo into second place, but the result in France is also noted.
"Renzi's triumph, Grillo's flop, Le Pen's bombshell in France", La Repubblica declares.
Spain's El Mundo feels the "most worrying" examples of the rise of far-right and anti-EU parties are the National Front's win in France and UKIP coming first in Britain.
The paper says the greater strength of Eurosceptic parties "will force conservatives and social democrats to form a grand coalition in the European Parliament in order to protect what the EU has achieved since its creation".
BBC Monitoring reports and analyses news from TV, radio, web and print media around the world. For more reports from BBC Monitoring, click here. You can follow BBC Monitoring on Twitter and Facebook.