Voters in Kiev hope polls will 'turn page' on unrest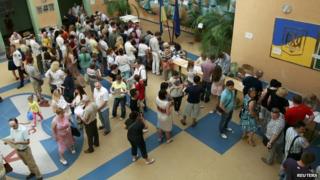 The BBC's Yaroslav Lukov sees both optimism and scepticism among voters in the Ukrainian capital Kiev, with some anxious to see how Russia will respond to the outcome of the presidential vote.
"This is the most important election since Ukraine's independence in 1991," Mykola, a voter in his 60s, told me bluntly.
"The country now has a chance to win a real - not a declarative - independence," he added, after casting his ballot at a polling station in central Kiev.
"We can finally break off the long period of the Russian rule and become a normal European democracy."
His views were shared by a number of voters who came in droves to cast their ballots on a hot sunny day.
Many were dressed in Ukraine's traditional embroidered linen shirts - known as vyshyvanky.
There were no queues outside, but inside the room was packed.
"This time is for real, we can finish what we failed to do in 2004," said Halyna, referring to mass protests of the Orange Revolution.
But there were also sceptics who said the election would do nothing to break a "corrupt" system.
"I've been giving and taking bribes all my life, and will continue to do so," voter Iryna told me.
"The newly-elected political leaders will be doing the same. It's normal in Ukraine."
Nervous wait
Many of those who came to the polling station also voiced hopes for a clear winner in the first round to "turn the page" after the revolutionary upheaval earlier this year.
"The nation must have a legitimate president recognised by the world community and especially Russia," said one man, who declined to give his name.
He added that this could help end the deadly separatist rebellion in the east believed by Kiev and its Western allies to be tacitly supported be Russia. Moscow denies the accusation.
Despite the mass disruption of the elections by pro-Russian armed groups in the east, Kiev hopes to claim that overall the poll was free and fair.
It is also expected to point to a high turnout - as initial figures indicate.
But many in Ukraine will now be nervously waiting for any reaction from Russia, despite President Vladimir Putin's promise to respect Ukraine's choice.