Ukraine elections: BBC reporters at the scene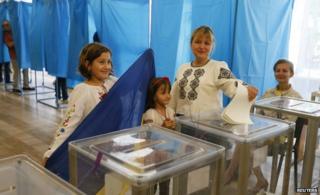 As Ukrainians go to the polls to choose a new president, three months after the ousting of Viktor Yanukovych, BBC reporters give their accounts of the voting, from crowded polling stations in Kiev, to smashed ballot boxes in the city of Donetsk.
---
Yaroslav Lukov in Kiev (21:30 GMT)
"This is the most important election since Ukraine's independence in 1991," Mykola, a voter in his 60s, told me after casting his ballot.
"We can finally break off the long period of the Russian rule and become a normal European democracy."
His views were shared by a number of voters who came in droves to cast their ballots on a hot sunny day.
"This time is for real, we can finish what we failed to do in 2004," said Halyna, referring to mass protests of the Orange Revolution.
But there were also sceptics who said the election would do nothing to break a "corrupt" system.
"I've been giving and taking bribes all my life, and will continue to do so," voter Iryna told me.
"The newly-elected political leaders will be doing the same. It's normal in Ukraine."
---
Mark Lowen in Dymytrov (16:00 GMT)
The small town of Dymytrov, an hour's drive north west of Donetsk, was the exception to the rule today: all 22 polling stations were open, allowing the 50,000 residents to turn out to vote.
The Ukrainian authorities still have control of this area and the separatists haven't managed to seize it.
One election official we met spoke of her unease when she saw the picture in other parts of the region - like Donetsk itself, where no voting took place at all.
All 483 polling stations in the city - one of Ukraine's biggest - were closed, election commissions either occupied by armed groups or threatened and voter lists seized.
It will be a huge worry for Kiev, desperate that whoever wins this poll will have at least some legitimacy in the east.
And while many in Donetsk cheered the blocked election, we met others angry at being deprived of their say in the future of Ukraine and now craving one thing above all: peace.
Daniel Sandford in Kiev (10:00 GMT)
There is no doubt who has the momentum in this election. At the House of Officers a stone's throw from the Ukrainian parliament we watched Petro Poroshenko voting.
Huge numbers of cameras and reporters from Ukraine and across the world were there too as - with his wife and children beside him - he shouted "Glory to Ukraine" and dropped his ballot paper in the box. He is the clear favourite according to the opinion polls, and he may even win outright in the first round.
At the polling station this morning he told me this was one of the most important moments in Ukrainian history.
But that will only be true if the new president - whoever it is - can stop the slow disintegration of the country, strike a deal with Russia, and start to turn around the economy.
---
Yaroslav Lukov in Kiev (09:15 GMT)
There was a steady stream of voters - many dressed in traditional embroidered linen shirts - at a polling station in central Kiev this morning. No queues outside, but inside the room was packed.
A number of people described the poll as the most important one since Ukraine's independence in 1991. They said the country now has a chance to win a real - not a declarative - independence.
There are also hopes for a clear winner in the first round - to fully "turn the page" after the revolutionary upheaval the country has experienced.
But there is ongoing concern over the continuing deadly fighting in the east. And many voters will nervously await reaction from Russia, despite President Putin's promise to respect Ukraine's choice.
---
Mark Lowen in Donetsk city (08:00 GMT)
Election day is a washout in Donetsk city: none of the almost 500 polling stations are open and no election commission is operational. Some have been seized by armed separatist groups; in others, staff have been threatened and voter lists removed. Perhaps the most important election in Ukraine since independence in 1991 is simply not going to happen in one of the country's biggest cities.
In the wider region, there is some limited voting. Seven electoral commissions are functioning in areas still controlled by the Ukrainian state and two are working near Luhansk, the other breakaway eastern city. Little solace for the Kiev authorities determined that whoever is elected has some legitimacy in the east.
We found people here who were keen to vote and angered by the closure but also others happy that the election has been thwarted. "I don't want the fascists in Kiev to govern us," said Galina, one woman. "I don't feel part of Ukraine anymore because they've come here to kill us. We must join Russia instead."
---
Olga Ivshina in Krasnoarmeisk, Donetsk region
This is the conversation I had this morning in Horlivka, 40km (25 miles) from Donetsk:
"Could you say are there any open polling stations here?"
"I would like to know it myself!"
All the locations where voting is supposed to take place are closed. I stood near one of the schools for 30 minutes: around two dozen people came, trying to find a polling station.
"I would like to vote, because I want Ukraine to be united. I want us to stay one country," a young woman told me and burst into tears.
"I think it is right that polling stations are closed, because we are already a different country, the People's Republic of Donetsk," argued a man passing by. Very soon more people joined the discussion and started to shout at each other.
You can not only feel the tension here, you can easily see it. On our way to the town of Krasnoarmeisk, we found a heavily armed checkpoint of the Ukrainian army. The soldiers are very nervous.
Krasnoarmeisk itself is one of the few cities in the region where polling stations are open. People coming to vote tell me they feel really unsafe. All the polling stations in the city are guarded by armed policemen. However, the turnout is significantly lower than usual, members of electoral commission say.
---