Ukraine crisis: Russian media protest at arrests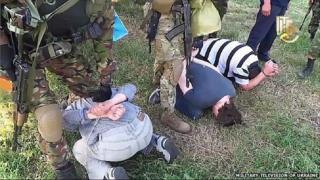 The detention of several reporters working for Russian media in Ukraine has sparked off an intense debate over the role of journalists at a time of conflict. The Ukrainian authorities accuse the reporters of "aiding terrorism", but their employers say they were only doing their job and covering the crisis.
On 18 May, Ukrainian security services arrested Marat Saychenko and Oleg Sidyakin, two journalists working for Life News, a fiercely pro-Kremlin Russian TV channel, in the restive Donetsk Region.
Two days later, Graham Phillips, a British freelancer working for Russian state-funded RT television, was arrested, also in Donetsk Region. He was released without charge the following day.
Both Life News and RT, formerly known as Russia Today, have long been regarded by many as the Kremlin's propaganda mouthpieces in Ukraine. Now they are facing accusations of directly supporting militants in the eastern parts of the country.
Accusations voiced in Kiev against the two Life News journalists range from lending a media platform to "terrorists" to direct involvement in attacks on Ukrainian troops.
Those who accuse the Life News journalists of fighting Ukrainian troops point to reports that a portable anti-aircraft missile launcher was found in their car.
The Security Service of Ukraine says Mr Philips was arrested in the port city of Mariupol for taking pictures of "hardware involved in the anti-terrorist operation" and because he visited "prohibited areas".
Among the many journalists covering the Ukraine crisis, he has earned a particularly controversial reputation, amid accusations of anti-Ukrainian bias and making false claims in his reporting.
He has rejected the charges, tweeting: "What you get from me - 100% honestly all the time".
'Scoundrels'
After the detention of their journalists, top editors at Life News and RT mounted vociferous social media campaigns to demand their release.
Life News TV chief Ashot Gabrelyanov accused the Ukrainian authorities of "terrorism" and launched the hashtag SaveOurGuys, which made it into the top Twitter trends in Russia.
In response to Gabrelyanov's appeal, Russian and international celebrities posted pictures of themselves holding up sheets of paper bearing the hashtag. They include Kiev-born Hollywood star Milla Jovovich, and even the Russian foreign ministry joined in the campaign.
Several international organisations such as Human Rights Watch, Reporters Without Borders and the Organization for Security and Co-operation in Europe (OSCE) have also demanded that the journalists be freed.
But RT editor-in-chief Margarita Simonyan argued that not enough was being done to secure Phillips's release. Like Gabrelyanov, she used her Twitter account to vent her outrage.
"I wish that all the scoundrels who call themselves journalists and say that our attempts to draw attention to Phillips's detention are propaganda get captured themselves," Simonyan tweeted.
'Traitor'
One of the journalists who criticised the high-intensity social media campaigns surrounding the detained reporters was Aleksey Venediktov. He is the editor-in-chief of Ekho Moskvy, one of the major independent media outlets still allowed to operate in Russia.
Venediktov's tweets triggered a very public spat with some of Russia's most prominent media executives. Parts of it were not fit to print.
In one of the more polite exchanges, Ashot Gabrelyanov called Mr Venediktov a "national traitor", borrowing a phrase previously used by Russian President Vladimir Putin.
The accusations swirling around the reporters detained in Ukraine have prompted a debate about what journalists can and cannot do at a time of conflict. Claims that the Life News reporters were in possession of weapons came under particular scrutiny.
Russian journalist Leonid Bershidskiy, although critical of Life News, ridiculed suggestions that its reporters were about to start shooting at Ukrainian troops. The car they were travelling in belonged to a militant, and so did the weapons found in the boot, he argued. "Is it not obvious that they had no way - or right - to stop him from putting anything in his boot, not even dead people? It would be a bit like a Discovery Channel cameraman trying to stop a hyena from eating chickens," he said.
Russian human rights ombudsman Ella Pamfilova has called on the UN and OSCE to take all the necessary measures to free the Russian journalists.
BBC Monitoring reports and analyses news from TV, radio, web and print media around the world. For more reports from BBC Monitoring, click here. You can follow BBC Monitoring on Twitter and Facebook.