Ukraine crisis: Tense divide in scarred Odessa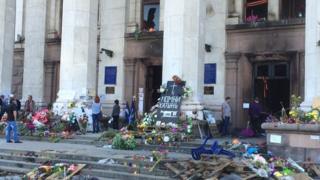 The southern city of Odessa was drawn dramatically into the Ukrainian crisis on 2 May when more than 40 people were killed in a burning building following street fighting. The BBC's Yaroslav Lukov, gauging opinion across Ukraine ahead of Sunday's presidential elections, finds a city still on edge after the tragedy.
Kiev's "Maidan" protests culminated in bloodshed and death in February, after months of mainly peaceful demonstrations.
Odessa had its own deadly "Maidan" in just a matter of hours.
The Black Sea port - which I had always associated with warmth, openness and a unique sense of humour - changed abruptly after the 2 May fire. The disaster divided the city.
Outside the burned Trade Unions house - now a shrine to the victims - mourners still gather in small numbers.
Both camps - pro-unity activists and Russia-leaning groups - blame each other for the tragedy, in which the majority of the victims were from the "separatist" side.
"These people were forced into the building by those supporting the Kiev junta," shouts Rosalia outside the charred building.
"I saw the bodies being carried out from the building in blackened sheets!"
The crowd suddenly gets agitated as a man comes forward with a blunt cry: "You're a liar!"
Two police officers are idly watching nearby, perhaps used to these fiery exchanges.
'Repression'
It feels as if those in the pro-Russian camp - a sizeable minority in this clearly pro-Ukrainian city - are often scared to talk openly.
Alexandr, one of the leaders of the "separatists" I had arranged to meet discreetly, simply did not show up. All my attempts to get at least a phone interview failed.
"You know, repressions," he told me, adding that another leader was now "on the run".
Viktor - an old man who bumped into me while I was waiting for Alexandr - talked at length about the "corrupt" new authorities in Kiev and Odessa stealing more, he argued, than the ousted President Viktor Yanukovych.
"But please - no pictures or interviews or they'll kill me," he begged.
Pro-Ukrainian activists - all willing to talk openly - say they have defended Odessa against the "Donetsk scenario" - at least for now.
They are referring to seizures of government buildings in the eastern city, which are believed to be tacitly supported by Russia. Moscow denies it is behind the insurgency.
And they also believe that Odessa can eventually heal its wounds.
"I wouldn't say that the city has changed [after 2 May]. I mean now - two weeks later - Odessa has returned to its normal rhythm," says Viktoria Sybir, a co-founder of the Odessa EuroMaidan.
"Everyone is expecting tourists as usual; we're hoping they won't be scared off.
"I'm very pleased that people from both camps realise the importance of co-operating now, not to allow this horror to happen again."
The vast majority of Odessans I spoke to agree that the "war" cannot go on forever.
"Just look at this," a man tells me on the beach.
"The sun, the sea, the love - it's Odessa, for God's sake."