Dutch and UK vote in European Parliament elections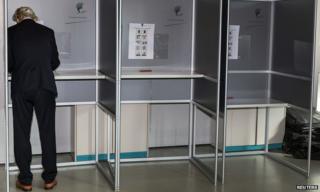 Polls have closed in Britain and the Netherlands on the first of four days of European Parliament elections.
There will be no official results anywhere in the EU until 23:00 in Brussels (2100 GMT) on Sunday - when voting ends in the rest of the EU.
The vote will decide who occupies 751 seats in the parliament. Most of the 28 member states will vote on Sunday.
The vote will affect the lives of the EU's 500m citizens, and the chamber has much more power than it used to.
It is a co-legislator, with the EU government ministers, in most policy areas.
The EU has banned the publication of official results until all countries have finished voting on Sunday.
Voters are also electing local council officials in England and Northern Ireland. It is the final big test of public opinion before the UK's general election next year.
In the new European Parliament - the EU's only directly elected body - the UK will have 73 seats, the Netherlands 26.
You can follow full coverage with all the latest updates at bbc.co.uk/vote2014.
The seats are allocated in proportion to a country's population.
Results for the local elections will come on Friday in the UK.
The last European elections took place in 2009.