Dutch send envoy 'to avert Saudi sanctions'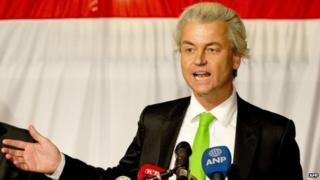 The Netherlands will send an envoy to Saudi Arabia in a bid to ease the Gulf kingdom's anger over the distribution of anti-Islamic messages, the foreign ministry has said.
Saudi Arabia has yet to announce any sanctions, but local media said certain measures had already taken effect.
The row began when far-right politician Geert Wilders distributed stickers bearing slogans derogatory to Islam.
The stickers were printed in the colours of the Saudi flag.
Dutch exports to Saudi Arabia are worth about 2bn euros ($2.7 bn) a year, according to the Dutch statistics office.
'Adolescent behaviour'
Saudi Arabia is one of the most conservative Muslim countries in the world, and enforces a strict interpretation of Islamic law.
Dutch Foreign Minister Frans Timmermans told reporters that, in discussions with the Saudi authorities, he had stressed that the Netherlands allowed freedom of expression, but that Mr Wilders' standpoint on this issue "was not shared by the Dutch government''.
He said he hoped the Saudi government would "understand you should not make an entire country pay for the adolescent behaviour of one lawmaker.''
"We will do everything possible to keep the consequences for the Netherlands as limited as possible," he told Dutch broadcaster RTL.