Five guilty of killing Russian journalist Politkovskaya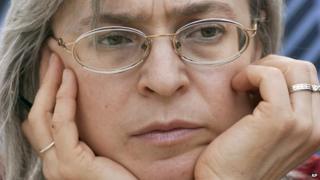 A court in Moscow has found five men guilty of the murder of Russian journalist Anna Politkovskaya in 2006.
One man was found guilty of the shooting and the other four of organising the killing. Three of the men were brothers from Chechnya.
Ms Politkovskaya, a 48-year-old investigative reporter and vocal critic of Russia's war in Chechnya, was shot in a lift in her block of flats.
Three of the men had been acquitted of the murder in a 2009 trial.
The initial verdict was overturned by Russia's supreme court, which ordered their retrial.
One of the brothers, Rustam Makhmudov, was found guilty of pulling the trigger. His brothers were found guilty of acting as getaway drivers.
The brothers' uncle and a retired policeman were also found guilty of organising the killing.
Ms Politkovskaya's reporting for Novaya Gazeta newspaper won international renown for her dogged investigation of Russian abuses in Chechnya.
But her pieces, which were highly critical of President Vladimir Putin, then serving his second term, and the Chechen leadership, angered many in authority.
The five men, who face possible life terms, will be sentenced on Wednesday morning.
A committee set up to investigate the shooting said it was still looking for the person who ordered the operation.
Her family welcomed the verdict but also expressed disappointment that the mastermind of the killing had not yet been found.
Last year a former police officer, Dmitry Pavlyuchenkov, was sentenced to 11 years in prison for supplying the murder weapon.
Magnitsky sanctions
In a separate development, the US announced on Tuesday that it was imposing sanctions on a further 12 Russians believed to be involved in the death of a Moscow lawyer in 2009.
Sergei Magnitsky died in prison, allegedly because of torture and neglect, after accusing Russian officials of tax fraud.
Following his death, the US passed the Magnitsky Act, aimed at punishing officials involved in his death, and last year published a list of 18 individuals banned from entering the country.
Among the names added to the list on Tuesday are three doctors alleged to have withheld treatment from Magnitsky while he was in custody.
One of them, Larisa Litvinova, was chief physician at Butyrka maximum security jail where Magnitksy died while another, Dmitry Kratov, was its deputy director.
A judge involved in a posthumous prosecution of Magnitsky for tax fraud has also been added to the sanctions list.
The US says the sanctions are "independent of Russia's actions in Ukraine".