Ukraine crisis: Lviv residents hope normal life returns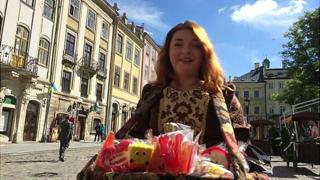 Ukraine's place in Europe is the focus of deadly fighting and fierce debate. But the BBC's Yaroslav Lukov, gauging opinion across the country ahead of Sunday's presidential elections, finds in the western city of Lviv it has never been in question.
"I've been to a number of countries, without ever leaving Lviv," goes the old joke.
The city - also known as Lwow in Poland, Lemberg in Germany or Lvov for the Russians - has been part of numerous empires throughout its colourful and often tragic history.
And although the borders have been changing almost as quickly as the notoriously unpredictable local weather, a vast majority here agrees on one thing: Lviv belongs to - and in fact never left - Europe.
European Union flags flutter alongside Ukrainian ones in the city, which - with its cobbled streets and cosy cafes in the Old Town - feels distinctly European.
"We now want all Ukraine to also be in the heart of Europe," says street sweets seller Katya, dressed in a charming medieval costume.
"It's where we've always belonged."
'Ready to fight'
Many Lvivites now see the 25 May presidential elections as a unique opportunity for Ukraine to finally wrestle off the long period of Russian domination and lock itself firmly into the Western world.
"It's a chance to return to normal life after the revolution and violent clashes," says local historian Ostap Sereda.
He is referring to mass street protests in the capital Kiev, which led to the ousting of President Viktor Yanukovych in February.
Lviv was at the forefront of the protests: a number of activists from the region travelled to Kiev and died there in the clashes with riot police and the army.
But their feeling of triumph at victory over what they saw as the corrupt Yanukovych regime soon changed to real fear of a Russian invasion, after Moscow annexed Crimea and unrest broke out in the eastern Donetsk and Luhansk regions.
"We fought for Kiev, we're now ready to fight for Donetsk," says Oleh, who works in a bookshop.
"If there is a war, I'll sign up as a volunteer together with my friends."
'Let them go'
Yet one does not feel any strong resentment here towards ordinary Russians.
All the hatred is directed mostly towards Russian President Vladimir Putin, whom Lvivites accuse of brainwashing his own country and trying to rebuild the Soviet Union.
"Language is not an issue, you can hear Russian everywhere in the city," says Andrey, an ethnic Russian, as he points to a group of Russian tourists enthusiastically taking pictures.
"It's the mentality - this is what matters," art historian Bohdan Shumylevych tells me.
"Ukraine is a micro-empire, but without imperial identity. It's a state made up of different entities, languages and cultures.
"We lived together for many years. Ukraine is not divided, it's just different. And somebody from the outside makes it divided," Bohdan adds.
And he admits that quite often he thinks Ukraine would move faster towards Europe without the eastern "separatists".
"Maybe we just should let them go," he says.