Strauss-Kahn to sue Cannes director over 'defamatory' film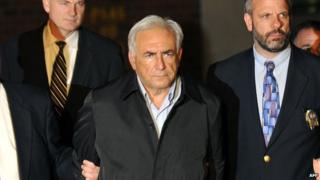 Dominique Strauss-Kahn is to sue US film director Abel Ferrara for defamation over a movie allegedly based on the ex-IMF chief's sex scandal.
"My client finds the film's accusations of rape intolerable," his lawyer said.
Welcome to New York, screened at the Cannes Film Festival on Saturday, is about a French banker who sexually assaults a maid at a New York hotel.
Mr Strauss-Kahn quit as head of the International Monetary Fund in 2011 after facing similar allegations.
The 65-year-old was arrested in New York three years ago when a maid at the Sofitel hotel in New York accused him of trying to rape her.
The charges were eventually dropped, and Mr Strauss-Kahn subsequently reached a settlement with the maid, Nafissatou Diallo.
He is still due to stand trial in an unrelated case in France on charges of hiring prostitutes for sex parties - allegations he denies.
'Disgusted and frightened'
His lawyer, Jean Veil, said the former IMF boss would take legal action for "defamation over the accusations of rape and the insinuations made throughout the movie".
He added that Mr Strauss-Kahn was "disgusted and frightened" by the film, which stars French actor Gerard Depardieu in the lead role.
"The prosecutor in New York cleared him of all charges [and] he has a right to be forgotten like everyone else," Mr Veil told French radio station Europe 1 on Monday.
The lawyer also alleged that Welcome to New York carried "anti-Semitic" overtones.
This was echoed by Mr Strauss-Kahn's ex-wife, Anne Sinclair, who accused Mr Ferrara and producers of projecting their "fantasies about money and Jews".
Welcome to New York tells the story of how a French economics professor becomes a politician backed by his wife's millions and rises to fame and prosperity only to be brought down by accusations of rape.
The film's American director, Abel Ferrara, responded to news of the lawsuit by invoking his "freedom of expression".
"[Strauss-Kahn] is not the only guy who got caught in a situation like this," he said, adding: "Let my lawyer talk to his lawyer."
The movie opens with a disclaimer, which reads: "This film was inspired by a court case, the public stages of which have been filmed, broadcast , reported and commented on throughout the media worldwide. Nonetheless the characters portrayed in the film and all sequences depicting their private lives remain entirely fictional."
The film, which was funded mostly in the US, will not be screened in French cinemas, and instead only shown on pay-to-view websites.
Depardieu put some of his own money into the movie and took a low fee of 100,000 euros (£81,000).
Producer Vincent Maraval had previously criticised the French political, TV and movie establishment for refusing to finance the film.
"Everyone warned us not to make this film, both our friends and our enemies," he said in an interview with US magazine Variety.