Europe ruling: Gardaí win right to strike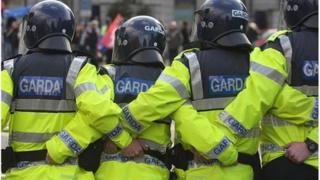 Irish police have won the right to strike for the first time in their 90-year history under a European ruling.
The decision by the European Committee of Social Rights means gardaí will be able to strike, hold pay talks and organise a trade union.
The committee ruled that a ban was a violation of an international agreement signed by the Irish government.
The decision follows a battle by the Association of Garda Sergeants and Inspectors (AGSI).
Its general secretary, John Redmond, said this represented "a defining moment" in the history of An Garda Siochána.
He said the European ruling was a " far-reaching and binding decision by an EU body that Ireland had erred and breached a charter, which it had signed in November 2000".
"The association hopes it will never have to resort to using its newly acquired right to strike in pursuit of the rights and entitlements of its members," Mr Redmond said.
"We now urge the government to work quickly to agree mechanisms which will give AGSI access to the Labour Relations Commission and the Labour Court."