Another Irish police whistleblower named in parliament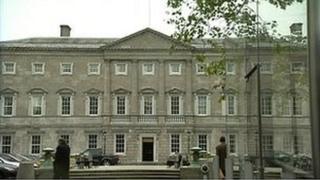 A policeman was victimised after arresting a colleague for drink-driving, the Irish parliament has heard.
Officer Keith Harrison was revealed as the latest whistleblower during a debate on the Guerin Report.
He said he was "office-bound" for two years while his colleague was allowed to drive police cars and carry a gun.
The Guerin report on abuse of police procedure led to the resignation of the justice minister last week.
The report was critical of how claims by an earlier police whistleblower were handled by senior officers, the Department of Justice and the then justice minister Alan Shatter.
Sinn Féin politician Pearse Doherty said the police officer contacted him a month ago saying he had serious concerns about practices in County Westmeath.
'Totally undermined'
Officer Harrison had said that after arresting a member of the drugs unit for drink-driving, he was targeted.
Mr Doherty said he met Mr Harrison and another police whistleblower again on Monday
He said sworn affidavits were handed over at that meeting.
In his affidavit, Mr Harrison said he had been "totally undermined and destroyed" and his good name tarnished as a result of his actions.
Mr Doherty asked for assurances that there would be no backlash against the men.
"Garda Harrison makes serious claims about how the drunk-driving case was struck out of court on dubious rulings and how evidence relating to the case was stolen by a member of the gardaí (Irish police service)," he said.
A review of the performance of the Department of Justice was announced earlier this week following publication of the Guerin Report.