Turkey mine disaster: Media anger over 'neglect'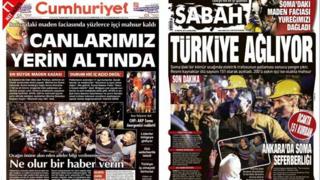 Widespread shock and outrage dominate reports in the Turkish media after the mining disaster in the western town of Soma. There's unanimous agreement that this is a "dark day" for Turkey.
But commentators in the country's liberal and left-wing press, as well as social media users, point a finger of blame at the government, accusing it of turning a blind eye to safety regulations.
'Our hearts are burning'
Turkish TV stations are providing live coverage of the rescue efforts after the explosion and fire at the Soma coal mine killed hundreds of people. The story is also on the front pages of almost every newspaper in Turkey.
"Our beloved ones are underground," says the headline in secular daily Cumhuriyet. "Our hearts are burning," exclaims centrist Vatan. "A dark day," concludes Haber Turk.
The pro-government press also mourns the victims of the disaster. The tabloid Takvim leads with "Black grave", while Sabah proclaims that "Turkey is crying".
Left-wing newspapers, however, focus not only on the grief felt in the country but also analyse the possible reasons for the disaster.
"You killed them all at once," reads the front page of Birgun daily. Evrensel also seems to suggest possible negligence on the part of the mining company and the government with an article entitled "Republic of massacre".
'Nobody accepts blame'
Centre-right Hurriyet and pro-Islamist Today's Zaman recall that in April, Prime Minister Recep Tayyip Erdogan's AK party turned down an opposition proposal in parliament for an investigation into safety regulations at the Soma mine.
"The government and the ruling party ignored the warnings… but now the miners have paid the price for this with their lives," says Hurriyet. It adds that the accident has sparked "widespread anger, as many denounced the inadequacy of safety measures, accusing the government and mine companies of negligence". The paper is surprised that Energy Minister Taner Yildiz has not yet resigned, as "he was the one who visited the Soma mine some nine months ago, praising its adequate safety measures".
"It seems like the accident could have been predicted," agrees centre-left Radikal. The paper is also angry that "there is nobody to accept the blame, apologise or resign".
Anti-government sentiment is also running high on social media. The hashtag #kazadegilcinayet ("not an accident, murder") is trending prominently on Twitter since news of the mine disaster broke out, with users accusing the government of neglecting health and safety procedures.
BBC Monitoring reports and analyses news from TV, radio, web and print media around the world. For more reports from BBC Monitoring, click here. You can follow BBC Monitoring on Twitter and Facebook.