Billionaire Donald Trump invests up to £36m in Irish golf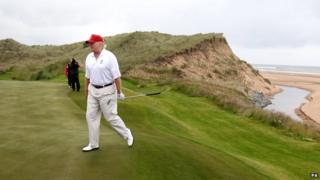 American billionaire Donald Trump has said he will invest up to 45m euros (£36m) in a golf course that he bought in the Republic of Ireland.
Mr Trump was speaking on a three-day visit to inspect the Doonbeg links in County Clare.
He said he planned to turn Doonbeg into one of the most iconic golf courses in the world.
He described it as "500 acres of ground with tremendous frontage onto the Atlantic Ocean".
Mr Trump said he had wanted to buy the course for more than four years.
The businessman bought the course for 15m euros (£12m) in February, after financial trouble and severe erosion saw the asking price slump.
He said he planned to double or triple that investment.
He wants to create a golf circuit from Doonbeg to the Open Championship course at Turnberry and on to his resort on the Menie Estate in Aberdeenshire, Scotland.
Irish Open
"We are already in contract for an incredible helicopter that will connect the three dots with guests and we think that is going to be a tremendous amount of business," he said.
He said hundreds of jobs would be created through his investment in Ireland.
Mr Trump said he had been contacted by organisers of the Irish Open and European Tour bosses to discuss holding tournaments at Doonbeg.
The businessman flew into Shannon Airport on Monday in his Boeing 757 jet emblazoned with the logo of Trump International along with his sons Donald Jnr and Eric and daughter Ivanka.
He was met at the airport by Irish Finance Minister Michael Noonan and the mayor of County Clare, Joe Arkins.
Doonbeg, a renowned beauty spot, is protected by strict environmental concerns for a microscopic snail that has been around since the Ice Age - the narrow-mouth whorl snail, or vertigo angustior, which measures about 0.9mm wide and 1.8mm in height.
Mr Trump said he would work with environmental experts in any redevelopment.
"The snail issue is an issue that will roll on and one that we will be very protective of," he said.
"It's a special piece of land and we are going to do it in a very, very special way and we are going to do it in a very environmentally sensitive way. It's very important to us."