Dublin: Man arrested as bomb found in Belfast registered car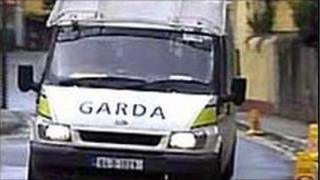 A 55-year-old man has been arrested after a bomb was found in a hotel car park in County Dublin at the weekend.
The bomb, made up of fertiliser in a metal keg, was discovered in a Northern-registered car in Lucan at about 21:00 BST on Saturday evening, 10 May.
The Finnstown Country House Hotel was evacuated and army bomb officers were called to the scene.
Gardaí later confirmed it was a viable device. The man was arrested on Sunday.
It is understood he is originally from Belfast and has known dissident republican links.
The bomb was not primed. Detectives do not know what the intended target was or whether the device was in transit and waiting to be collected. It was found after suspicions were raised about what might be in the car.
Guests at the hotel, including a wedding party, had to leave for several hours while Irish army experts made the device safe.
BBC Northern Ireland Dublin correspondent Shane Harrison said the bomb was similar to an old-style Provisional IRA bomb.
"The man being questioned was arrested in a flat in west Dublin in a follow-up search on Sunday morning. He was at one time linked to the Continuity IRA but is believed now to be more associated with the Real IRA," he said.
"Bomb-making components, including timing units and mercury switches, were also found in the flat."
The man can be questioned for up to 72 hours before he is either charged or released.