Ukraine crisis: France, Germany threaten Russia over poll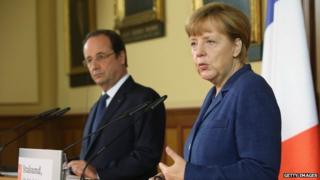 France and Germany have threatened Russia with further sanctions if Ukraine's presidential election on 25 May fails to go ahead.
President Francois Hollande and German Chancellor Angela Merkel said in a statement they feared further destabilisation of Ukraine.
They also said referendums planned by pro-Russian separatists in eastern Ukraine for Sunday would be illegal.
They called for a visible reduction in Russian forces on the Ukrainian border.
Russia is estimated by Nato to have some 40,000 troops near the border, though Moscow says they have been pulled back.
Ukraine's interim President Olexander Turchynov, meanwhile, warned the referendums could result in the "self-destruction" of regions that vote in favour of federalisation.
Targeted sanctions
The French and German leaders' statement was issued after they met in Chancellor Merkel's constituency in Germany.
"If there is not an internationally recognised presidential election, that would lead unavoidably to a further destabilisation of the country," it said.
"Germany and France are in agreement that if that is the case, then corresponding consequences would be drawn as outlined by the European Council on March 6, 2014."
Correspondents take this to mean economic sanctions against Russia already authorised by European leaders in March.
Both the European Union and the United States have already imposed sanctions targeting officials and companies linked to Russian President Vladimir Putin.
But the joint statement also called on the Ukrainian government to refrain from military action before the 25 May poll, except "proportionate" operations to protect people or property.
'Total collapse'
On Saturday, Mr Turchynov admitted many in eastern Ukraine supported the pro-Russian militants, but warned Sunday's referendums were "a step towards the abyss".
"Those who advocate self-determination do not understand that this will mean the total collapse of the economy, of social programmes, and of life in general for the majority of people in these regions," he said.
Ukraine is currently engaged in an "anti-terror" operation to disarm pro-Russian separatists in the east and remove them from buildings they are occupying in at least a dozen towns and cities.
At least seven people were killed and 39 injured in clashes between the two sides in the south-eastern port of Mariupol on Friday, according to official figures.
The government said there was a gun battle when pro-Russian activists tried to storm a police HQ, but some local witnesses accused the security forces of opening fire on unarmed protesters.
By Saturday afternoon, pro-Russian rebels in the city had set up more barricades with burning tyres and vehicles tipped over on their sides, sealing off the roads around the town hall and the police station.
In Donetsk, meanwhile, the Red Cross said nine of its workers, there to evaluate the needs of the local population, were briefly detained by separatists. Reports suggest they were let go once those holding them had established they were not "spies".
Victory Day
Friday saw no sign that tensions between the West and Russia over Ukraine might diminish.
President Putin flew to Crimea as part of ceremonies marking Victory Day - the Soviet Union's defeat of Nazi Germany. Crimea was annexed by Russia in March after a referendum described by the West as a sham.
Washington described Mr Putin's trip as provocative and unnecessary.
Sunday's referendums are due to take place in the Donetsk and Luhansk regions, despite Mr Putin urging the pro-separatist organisers to postpone them.
Voters are to be asked if they support the creation of a "People's Republic" in eastern Ukraine, something the Ukraine government and the West fear would open the door to the region joining Russia.