Dutch MP Jesse Klaver tells EU fans to 'come out'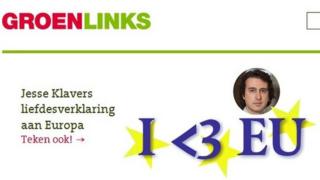 A left-wing Dutch MP has urged his compatriots to sign a declaration of love for the EU, in reaction to those who prefer to be "cranky about Europe".
Jesse Klaver's online declaration says "we come out of the closet as proud Europeans". Europe's creative achievements include the Acropolis, lasagne and Sweden's Ikea, he says.
The strongly anti-EU Freedom Party of Geert Wilders is expected to do well in the European elections this month.
EU supporters call 9 May "Europe Day".
On 9 May 1950 the then French foreign minister, Robert Schuman, made a declaration calling for European integration - seen as a founding moment for the EU. The EU's first incarnation was the European Coal and Steel Community.
To mark the day Mr Klaver says it is time for the EU's supporters to stand up and be counted - to "come out", like gay people who felt socially marginalised in the past.
He is an MP in the GroenLinks (GreenLeft) party, on the green and socialist wing of European politics. The party has nine seats in the Dutch parliament and three in the European Parliament.
But Mr Wilders's Freedom Party (PVV) appears to have more support among Dutch voters.
Nurturing EU 'relationship'
Mr Klaver acknowledges that "our Europe is not perfect - she can be quite dominant and wants to get her way", but he says the Eurosceptic "doomsayers" are "blind" to Europe's virtues.
"We would appreciate more interest, consultation and accountability. As in any good relationship, there is plenty to work on," he says.
Euroscepticism has grown in the Netherlands amid widespread concern about immigration and the future of the euro.
The 2008 financial crisis made many European voters question the EU's economic policies and free movement of workers in the 28-nation bloc.