Media stunned by Putin's latest move on Ukraine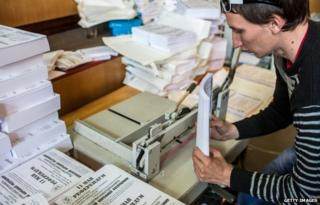 Russian President Vladimir Putin's appeal to pro-Moscow activists in eastern Ukraine to delay their independence referendum has surprised commentators in both Russia and Ukraine.
To some, this marks a major U-turn in the Kremlin's policy but others are suspicious and have warned of "a new game" by the Russian leader.
In Ukraine, popular daily Segodnya describes President Putin's remarks as "sudden" and argues that to many people, they amount to an admission of involvement in orchestrating the crisis in south-eastern Ukraine.
But political analyst Vadym Karasyov disagrees, telling Segodnya that if the referendum goes ahead despite President Putin's calls for it to be postponed, Moscow will be able to use this as evidence that it is not behind the pro-Russian separatists.
"New game"
Prominent Ukrainian journalist Dmytro Tymchuk is deeply suspicious of the Russian president's motives. "Putin has started a new game," Mr Tymchuk says. "We do not yet understand what it is but it is obvious that this is not the time to relax."
He also rejects claims that Russia has started pulling troops back from the Ukrainian border. "This means that the soothing and almost pacifying statements by Putin are a show for the most gullible."
Popular Ukrainian blogger Igor Stokoz agrees. "If you think that Putin has backpedalled, you are deeply mistaken," he says. "We should not expect any favours from our neighbours. What we need to do is redouble our vigilance. The fight for our future continues."
"Is the war over?"
In Russia, commentators are just as surprised by President Putin's remarks.
"Am I right in thinking that the war in Ukraine is over and Poroshenko is president?" asks popular blogger Ilya Varlamov, referring to the front-runner in the forthcoming Ukrainian presidential polls.
Influential daily Kommersant describes Putin's remarks as "unexpected" and quotes experts as saying that they point to "intense wheeling and dealing behind the scenes", whose outcome is not yet clear.
But pundit Stanislav Belkovskiy, who is often critical of the Kremlin, tells Kommersant that this by no means marks a U-turn in Moscow's policy on Ukraine. "This is tactical manoeuvring. Putin's stance has not changed. He definitely wants to seize control of Ukraine's south-east."
Pro-Kremlin analyst Konstantin Zatulin agrees that Russia's policy remains the same, but for a different reason. "Moscow's priority is stopping the violence whilst determining the future of Ukraine's state system," he tells Vedomosti newspaper.
"A blow"
Russian nationalist commentator Aleksandr Dugin says that many pro-Russian activists felt let down by President Putin. "This statement made at a meeting between Putin and the OSCE chief made many feel depressed. Indeed, it does look like a blow from a certain point of view," Mr Dugin writes.
But Mr Dugin says it also shows how seriously President Putin treats turning Ukraine's south-east into "a separate political entity".
Mr Putin's unexpected pronouncements on Ukraine have also given rise to much mockery of the Russian media which campaigned relentlessly for the referendum in eastern Ukraine.
"It will be interesting to see all of the Kremlin's agitprop backpedal," tweets prominent Russian Blogger Rustem Adagamov.
Marat Gelman, formerly a political consultant for the Kremlin, also scoffs at what he sees as attempts by Putin supporters to justify his policy U-turn. Writing on Facebook, he calls them "laughable" and points to one example by state TV presenter Vladimir Solovyev, who tweeted: "Once again, no-one could predict Putin's next move... the ball is the US and EU court."
But Mr Gelman is also full of praise for President Putin's latest move and hopes that "things may start looking up now".
"For the second time in my life, I've just raised a glass to Putin's health. The first time was in 2000, together with him," Marat Gelman writes.
BBC Monitoring reports and analyses news from TV, radio, web and print media around the world. For more reports from BBC Monitoring, click here. You can follow BBC Monitoring on Twitter and Facebook.