Ukraine crisis: Poll shows most want united country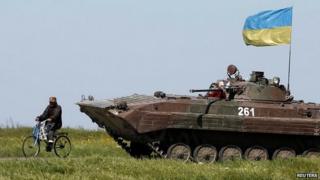 Recent violence has pushed Ukraine to the brink of a civil war but a new poll has found that a majority of Ukrainians want their country to remain united.
The Pew survey suggested that support for a unified state is strong even in the largely Russian-speaking east.
The findings came as pro-Russians said a referendum on independence in eastern Ukraine would go ahead this weekend.
President Putin had urged separatists to delay the vote to encourage further dialogue on Wednesday.
The survey, published on Thursday but conducted last month, found that 77% of people nationwide want Ukraine to maintain its current borders, while 70% in the east agree. Only among Russian speakers does the support drop significantly, but it is still at 58%.
However, support for the government is much lower, with just 41% of Ukrainians saying they have confidence in Kiev - although there is a sharp divide, with the government receiving the backing of 60% in the west, but just 24% in the east.
The survey lends support to the official results from Crimea's secession referendum in March, with 93% of those questioned in Crimea saying that they had confidence in Putin and that Russia was playing a positive role on the peninsula.
Ukrainian media had disputed the referendum's results, suggesting that a leaked document showed only 50-60% of Crimea voters had backed the proposal to join Russia, despite an official tally putting the figure at 97%.
The poll by Pew, a Washington-based independent research group, was conducted among 1,659 adults in Ukraine between 5-23 April.