Ukraine unrest: Kiev resumes military operation in east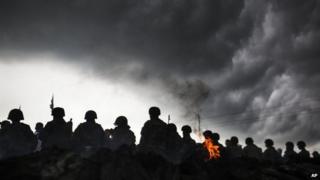 Ukraine's government has resumed military action to tackle pro-Russian separatists in the east, after a day of deadly violence in the city of Odessa.
Interior Minister Arsen Avakov said the operation "continued at dawn", with attacks around the town of Kramatorsk.
On Friday dozens of people died in a fire at a building taken over by pro-Russians in Odessa in the south-west.
Seven international observers seized by pro-Russians in the town of Sloviansk last week were freed on Saturday.
Five Ukrainian officers taken with the military observers, linked to the Organization for Security and Co-operation in Europe, were also freed, Russian reports say.
Mr Avakov said Ukrainian forces had on Saturday taken a television tower in Kramatorsk, which is about 17km (10 miles) from the pro-Russian separatists' stronghold of Sloviansk.
"We are not stopping," Mr Avakov wrote on his Facebook page.
Odessa arrests
The BBC's Sarah Rainsford in Donetsk says that although it appears the Ukrainian forces are continuing operations around Sloviansk, they have not yet tried to advance into the centre.
She says she spoke to residents of the area last night and was told some in Kramatorsk had gone out to try to stop armoured personnel carriers from entering.
She says the defence ministry also reported "serious fighting" last night in Andreevka, some 6km west of Sloviansk.
The ministry said pro-Russian separatists had attacked the armed forces and two Ukrainian soldiers were killed. Pro-Russian groups confirmed this, but also said there had been civilian casualties. There is no confirmation.
The operations come a day after running battles between pro-Kiev groups and separatists in Odessa, which culminated in the fire at the Trade Unions House that left at least 36 dead.
Officials said some people were overwhelmed by smoke and others died after they jumped from the building.
The exact sequence of events is unclear, but reports suggest separatists had barricaded themselves inside the building and both sides were throwing petrol bombs.
Local police chief Petro Lutsiuk told Reuters news agency on Saturday that more than 130 people had been arrested following the violence.
The US said the unrest was "unacceptable" and urged all sides to work together to restore law and order in light of the "tragedy".
Ukrainian Deputy Foreign Minister Danylo Lubkivsky told the BBC that an investigation was under way but insisted Russia was behind the violence.
"The situation remains under control. But the security situation is threatened by Russian special agents," he said.
One protester called Albu, who said he had been barricaded in the building, told Russia Today the Ukrainian ultra-nationalist Right Sector was to blame for the attack.
He said the activists threw in stun grenades and tear gas, adding: "When we were finally able to jump out of the window from the second floor, we were met by the Right Sector radicals. They beat us using bats and chains."
Earlier on Friday four people were killed in clashes between rival groups in Odessa. The death toll there is the highest since violence broke out between pro-EU protesters and police in the capital in February.
'A criminal adventure'
Pro-Russian gunmen have seized scores of government buildings in eastern Ukraine in recent weeks and have detained several international observers.
On Friday President Olexander Turchynov said that Ukrainian armed forces had killed many separatists in an offensive in Sloviansk.
Government forces took over pro-Russian checkpoints outside the city but separatists shot down two Ukrainian army helicopters, killing a pilot and another serviceman.
Russia responded by calling a meeting of the Security Council in New York, where it criticised Kiev and labelled the government offensive in eastern Ukraine a "criminal adventure".
The US called for commitments made in Geneva last month to be implemented, referring to the agreement signed by all sides to dissolve illegal militia operating in eastern Ukraine.
The West continues to accuse Moscow of provoking the unrest in eastern Ukraine, something Russia denies.
Eastern Ukraine has a large Russian-speaking population. It was a stronghold for President Viktor Yanukovych before he was overthrown by pro-Western protesters in February.
Russia then annexed the Crimean peninsula - part of Ukraine but with a Russian-speaking majority - in a move that provoked international outrage.