European elections: Radicalised by unemployment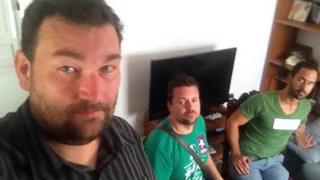 In a two-week trip, the BBC's Patrick Jackson travels to Spain, France, Italy and Greece visiting Europe's unemployment "black spots" to talk to people about the forthcoming European elections.
Following his stop in Seville, Andalucia, he chairs a second Twitter debate with three unemployed people in Jerez, near Cadiz.
Again, here are the highlights, and to find out more read Patrick's blog on Tumblr.
Patrick (above, left) was joined by people who support Podemos, the new party of the indignados, or 15M as they call themselves, a "more serious" version of the Occupy movement.
First is Jose, 29, who studied human resources at the University of Cadiz and whose last job ended in February. He had been working in the UK for four months, in a warehouse in Manchester for £6 an hour, but could not get enough hours and came back to Cadiz.
Jose is joined by Mayte, 30, a fellow graduate of the University of Cadiz, who lost her job a year ago, as a packer for a mail-order firm, which collapsed. She studied philology and has an MA in teaching.
Both are joined by Moises, 40, who lost his job as a teacher two years ago during Spain's budget cuts.
The place of 15M
I ask the group: "Should the 15M be getting involved in politics at all?"
"Podemos is very important because we want a voice inside the institutions," says Jose.
"15M represents the spirit of the street, but a political party offers a vision for society and that's why Podemos exists," says Moises.
Moises adds: "To create jobs it is vital to change the economic mindset. Don't rescue banks - rescue people."
Mayte says: "We don't want to pay the public debt. We want to break with the capitalist system. Work less so everyone can work some!"
Difficult questions
I pose another question: "Who did you vote for at your first election?"
Moises voted Socialist, Mayte voted Green and Jose doesn't want to say.
Moving on, I throw in a controversial retweet:
Jose replies: "Work in England is very precarious. All the Spanish people going there have to work in very bad conditions."
Followed by Moises: "I worked in Germany. Of course I like England. The point is that we need to change the economy in Spain."
And then Mayte: "I don't want people to be treated as goods or that anyone has to change their country in order to survive."
I throw in another question: "Would the parents of any of the three vote for Podemos?"
Jose's parents voted for the ruling, centre-right Popular Party, while Moises' "whole family voted for the Socialists".
"It's very important to raise the wages of workers and lower the salaries of those at the top. We have to bridge the gap," adds Jose.
A return to action
After a break from the debate, Sigrid Holmwood asks the panel if they think people who previously voted for the Popular Party will vote for Podemos.
"A lot of working class people with no interest in politics voted [for] the Popular Party, without understanding what it really stood for," says Mayte.
"A lot of people see no alternative to the two big parties because public opinion has been manipulated by the mass media," says Jose.
With a flag of the pre-Civil War Spanish Republic hanging on the wall of our debating chamber, I ask those assembled if Spaniards are wary of radical politics because of memories of the war.
Moises says: "Some people. Old people, for example."
Jose says: "Radicalism does not have to be violent. The government is violent towards society."
Mayte says: "Being radical just means getting to the root of the problem."
Final thoughts
I ask the three if they had jobs, would they still support Podemos?
Although everybody agrees they would, Moises adds: "Podemos is not just for jobless people, it's for all ordinary people."
@mywebslap tweets to ask: "Do you think that our actual politicians in the EU will be able to change things in Spain?"
I ask what the worst aspect of their unemployment is.
"If you don't have a job, you are nobody," says Jose. "The main thing is the psychological aspect."
"Being unemployed," says Mayte, "you feel you are trash in the eyes of the state."
On the back of which, agree Moises and Mayte, Podemos has offered a political solution to people. "A teaching tool for social change," adds Jose.
Do you live in Spain, France, Italy or Greece? Are you unemployed? Will you be voting in the upcoming elections? If you are willing to speak to the BBC email your views to haveyoursay@bbc.co.uk using the subject title "EU unemployment".