E-cigarettes to be banned in Republic of Ireland health facilities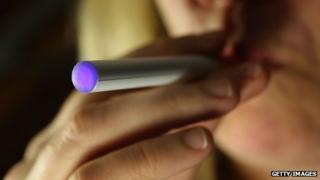 The use of electronic cigarettes in health facilities in the Republic of Ireland is to be banned.
The Health Service Executive (HSE) will introduce the ban from 1 May.
The move comes after the HSE conducted a review of the safety of e-cigarettes and their impact on the authority's smoke-free campus policy.
E-cigarettes are currently unregulated in the Republic of Ireland and are not covered by the ban on smoking in the workplace.
Dr Stephanie O'Keffe, the HSE's national director of health and wellbeing, said: "The decision to ban the use and sale of e-cigarettes in HSE facilities follows a detailed review of their safety and the impact of e-cigarettes on the smoke-free campus policy.
"There is currently no evidence that e-cigarettes are safe for long-term use, or are effective as a smoking cessation aid.
"While we will be keeping this emerging evidence under review, the e-cigarettes ban is being introduced now because they pose a challenge to smoke-free campus enforcement and come with safety concerns for a healthcare environment."
The HSE is currently aiming to make all of its buildings and facilities smoke-free by 2015.
The majority of public hospitals are currently smoke-free, as are many primary care and administrative facilities.
Dr O'Keefe added: "Ensuring that the health service buildings and grounds are smoke-free is an integral part of our approach to reducing tobacco use and harm in Ireland."