France Hollande: Top aide resigns over allegations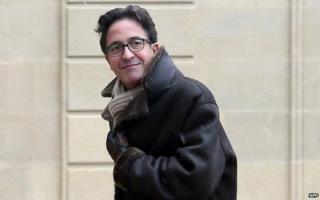 A close aide to French President Francois Hollande has resigned following allegations he had a conflict of interest in a previous post.
Aquilino Morelle is alleged to have breached ethical guidelines for public servants by working for drugs companies while at the social affairs ministry.
Reports about his luxurious lifestyle also raised eyebrows at a time of government spending cuts.
Denying wrongdoing, he said he was resigning in order to defend himself.
Correspondents say his departure adds to the pressure on Mr Hollande, who has the lowest opinion poll ratings of any French leader in modern times.
Mr Morelle, 51, reportedly wrote many of Mr Hollande's speeches and advised him on strategy.
Shoe collection
In a Facebook post on Thursday, he said he had obtained authorisation from the IGAS public health inspection body in 2007 for outside work with firms in the drugs industry.
"At no point was I in a situation of a conflict of interest," he wrote. "As a civil servant, there are a certain number of outside activities which are permitted by the law, including education and advice."
However, the relevant rules governing such activities require authorisation and, according to France's AFP news agency, the department Mr Morelle worked for said on Friday it could find no trace of any such authorisation in his case.
The French investigative website Mediapart, which broke the story, also reports that Mr Morelle maintained a collection of 30 pairs of hand-made shoes at the Elysee Palace, which were professionally polished every two months.
Mr Morelle did not contest the accuracy of the shoes revelation and also confirmed Mediapart's allegation that the two chauffeurs at his disposal were sometimes tasked with picking up his son from school, citing his "extremely busy schedule".
The ruling Socialists, who suffered a heavy defeat at recent local elections, plan to make budget cuts worth 50bn euros (£41bn; $69bn) in order to reduce public sector debt.