Anglo Irish trial: Jury still has not reached verdict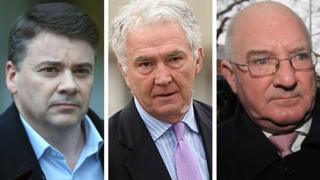 Jurors in the trial of three directors of the failed Anglo Irish Bank have still not reached a verdict after more than two days of deliberations.
Seán FitzPatrick, 65, Pat Whelan, 51, and Willie McAteer, 63, are accused of making loans designed to illegally prop up the bank's share price.
The jury began to consider the evidence late on Friday and continued all day Monday and Tuesday.
The jurors will resume deliberations on Wednesday morning.
The loans at the centre of the case were part of a move to unwind a large position taken in the bank by the Fermanagh businessman Sean Quinn.
Mr Quinn had made a complex financial bet that effectively gave him control of around 25% of the bank's shares.
The bet had gone badly wrong for Mr Quinn, leaving him with large and increasing losses.
The bank was concerned that if the shares he controlled were dumped on the market its share price would collapse.
The bank provided loans to 10 customers, businessmen known as the Golden Circle or Maple Ten, to each buy just over 1% of the Quinn-related shares.
Six members of Mr Quinn's family bought the outstanding 15% of the shares.
The Maple 10 borrowed 45m euros (£37m) each from Anglo to do the deal while the Quinns borrowed 169m euros (£140m).
The prosecution said this amounted to an illegal share support scheme.
The defence case is that the loans were made "in the ordinary course" of the bank's business so there was no illegality.