Anglo Irish trial: Jurors told to put aside any prejudices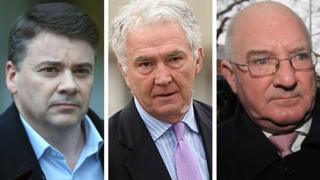 Jurors in the Anglo Irish Bank trial in Dublin have been told they must put aside any prejudices about bankers.
The judge said they could not visit upon the accused men the Republic of Ireland's financial calamity.
Seán FitzPatrick, Patrick Whelan and William McAteer, deny giving illegal loans to 10 people to buy shares in Anglo in July 2008.)
Mr Whelan and Mr McAteer deny giving illegal loans to members of Fermanagh businessman Seán Quinn's family.
The judge at Dublin Special Criminal Court told the jurors they were not entitled to use what happened after the collapse of Lehman Brothers against the accused.
He said that would be "incredibly unfair" and "you cannot do that".
He said the jurors must be certain of the guilt of the accused men before they could convict and must be satisfied beyond a reasonable doubt.
If they did not believe the prosecution's evidence they must acquit.
He told them that in order to convict they must be satisfied beyond reasonable doubt that the funds were actually given.
Reasonable
They should then go on to consider if the over-arching purpose was to stabilise the share price in the unwinding of Seán Quinn's position and if the loans were not in the ordinary course of business.
He said they must be satisfied that Mr Whelan and Mr McAteer knew of the scheme, knew of the details and, if they did, did they take any steps to stop it.
In the case of Mr Fitzpatrick, they must ask did he know before it was executed that Anglo was going to provide funding to 10 people to buy Anglo shares and that the purpose was to ensure share price stability.
Before they can convict him they must be able to answer that question in the affirmative beyond reasonable doubt, he said. They must also be sure that he took no reasonable steps to stop it.
If they could not answer yes to any of those questions the prosecution must fail, he said.
The judge said the attitude or actions of the financial regulator were totally irrelevant in this case, as was the involvement of investment bank Morgan Stanley.
He said any legal advice or mention of legal advice was irrelevant as were any steps taken by the three accused in relation to establish whether the scheme was legal or not.
The judge said; "This might seem totally unfair that the belief of the defendants as to the legality or the illegality does not matter, but that is the case and I'm directing you as a matter of law."