Anglo Irish trial: Two not guilty on some charges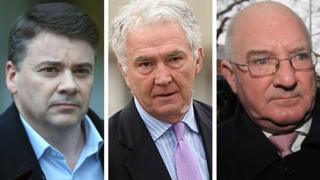 Two of the accused in the Anglo Irish Bank trial have been found not guilty on some charges on the direction of the judge at Dublin Criminal Court.
The jury was directed to find Pat Whelan not guilty of seven charges of being privy to the fraudulent alteration of a loan document.
The judge also ordered that Seán FitzPatrick be found not guilty on charges related to Quinn family loans.
Mr FitzPatrick remains charged with giving illegal loans to others.
He still faces ten charges of illegally lending money to a group of investors, known as the Maple Ten, to buy shares in Anglo Irish.
Illegal loans
This was claimed to be part of a plan to unwind Sean Quinn's 29.4% control of Anglo, which officials believed was driving down the share price.
The charges of giving illegal loans to six members of the Quinn family and others remain against Mr Whelan and Willie McAteer.
The judge said he made the decision to direct the not guilty verdicts on certain counts following legal argument.
"For good reason I have directed not guilty verdicts. It will all be made apparent to you in due course," he told jurors.
The three men deny charges of breaching Section 60 of the Companies Act 1963 by lending money to investors to buy shares in Anglo.
Willie McAteer (63) of Rathgar, Dublin, and Pat Whelan, 51, of Malahide, Dublin, face 16 charges of providing unlawful financial assistance to members of the Quinn family and the Maple Ten group of investors in July 2008 to buy shares in the bank.
Sean FitzPatrick, 65, of Greystones, County Wicklow, is now charged only with loaning money to Maple Ten .