France on alert for prowling wolves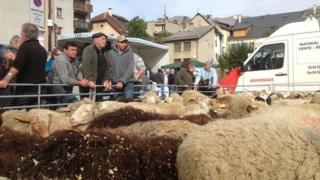 France is allowing wolf hunts in places where sheep are at risk from the carnivore's growing numbers, the BBC's John Laurenson reports. But efforts to cull wolves are controversial.
Late at night, up in an Alpine forest, a woman in a black skirt carrying a black gun gets out of her car.
Caroline Bourda is a sheep farmer, in the hamlet of Esparron la Batie. Tonight, like most nights, she is trying to show the wolf who is top predator.
She fires. But up into the sky.
The government advises farmers to shoot near their farms to educate the wolves to stay away.
It has also advised - and paid for - sheep farmers to buy electric fences and huge protection dogs with spiked metal collars to stop the wolves sinking their fangs into their necks.
The French government is spending 12m euros (£10m) a year on wolf attack prevention and compensation.
In some areas the government pays out more for the wolf than it does for the unemployed, according to the hill farmers' organisation Eleveurs et Montagnes (Breeders and mountains).
Now France has allowed wolf hunts around threatened sheep farms like Caroline's and ordered a cull of 24 animals.
Hunters have so far managed to kill just seven, while the wolves - there are now more than 250 in France - are killing more sheep than ever.
Caroline says her last wolf attack was the previous weekend. She has lost dozens of ewes.
The wolf is a formidable adversary for man, she says: clever, determined and slightly unhinged.
"When they attack a flock - especially when they get inside an enclosure - they don't stop killing as long as there's still a sheep or a lamb moving," says Caroline.
They eat one and kill the others just for the sake of it, she says.
After being eradicated in the 1930s, the wolf padded back into France, over the Alps from Italy, in the mid-1990s, having been listed as a protected species by the Bern Convention that France has signed up to.
Ecologists rejoiced, Caroline among them.
She first came to this farm as an "eco-volunteer" with the pro-predator organisation Ferus, which aims to protect bears, wolves and lynxes.
As a 20-year-old ecologist activist, studying biology at Bordeaux University, she believed that, if farmers protected their flocks properly, they and the wolf could live side-by-side.
She does not believe this anymore.
"The wolves find a way around every protection we put in place," she says, pointing to the electric fences she has put up.
Caroline married the sheep farmer she had come here to help.
As for Ferus, she was quickly disillusioned, she says.
What they really want, she says, is for the farmers to leave so they can "re-wild" the mountains.
Keep them wild
Patrick Boffy, head of Ferus in the southern Alps, denies this.
There are some terrains - steep, rocky slopes for example - that are difficult to defend against the wolf, he says.
Here perhaps the farmers should leave, but in most places cohabitation is possible if the farmers adapt, he adds.
But why should people make these efforts for the wolf?
"It's a bit like asking what is the point of an eagle, or a piece of music, or a painting. The wolf is part of life," he says.
"It returned naturally to France - the only southern European country where it had disappeared.
"In all the others - from Spain to Turkey - there have always been wolves and not one of these countries envisaged eradicating it. The difficulty is one of mentality. In France, we need to learn, little by little, how to live alongside wild animals again."
And not just hill farmers. The animal is moving closer to major towns.
There are now wolves among the vineyards of the Champagne region. There are wolves 160km (100 miles) east of Paris.
The French may also have to re-learn the realities of living close to wild animals again.
According to the historian Jean-Marc Moriceau, wolves killed 2,000 people in France between 1362 and 1918 - mainly five- to 15-year-olds.
We have simply forgotten that wolves don't only prey on people in fairy tales.