Luas crash: Woman dies after car and tram collide in Dublin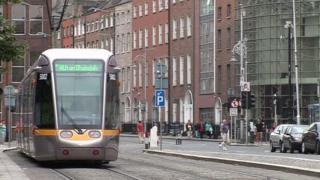 A woman has died after a crash involving a tram and a car in Dublin city centre.
The victim, a pedestrian, was struck by the car after the vehicle collided with a Luas, Dublin's light rail tram system, at about 08:45 BST.
It happened at the junction of Jervis Street and Abbey Street Upper. The woman, who was in her 30s, was pronounced dead at the scene.
The road and a section of the Luas line have been closed for an investigation.