Trinity College Dublin: Man released after gates damaged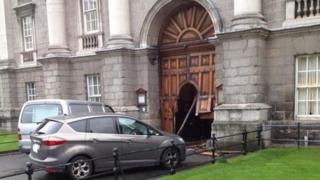 A 68-year-old man who was arrested, after the gates of Trinity College in Dublin were damaged on Wednesday, has been released without charge.
The historic front gates of the university were damaged after a car was driven into them. Several cars were also damaged when a car was driven through the campus.
The car was later stopped when it was driven the wrong way up Dawson Street.